This post brought to you by JOLLY TIME Pop Corn. The content and opinions expressed below are that of The Housewife in Training Files.
A sweet and salty treat that takes minutes to make! Skinny Peanut Butter Caramel Popcorn is made with only natural ingredients and is tossed with cashews and white chocolate for a sweet treat!
I can't express my joy for today. It's Friday. It's been a never ending week. Make that few months, actually.
With our kitchen finally being completed, I can't say enough how nice it is to finally live in our house! To be able to come downstairs, turn my Keurig on that has been shoved into storage for far too long and brew the best cup of coffee I have tasted for months.
That may be a bit of an exaggeration. But you feel me. It's a comfort thing.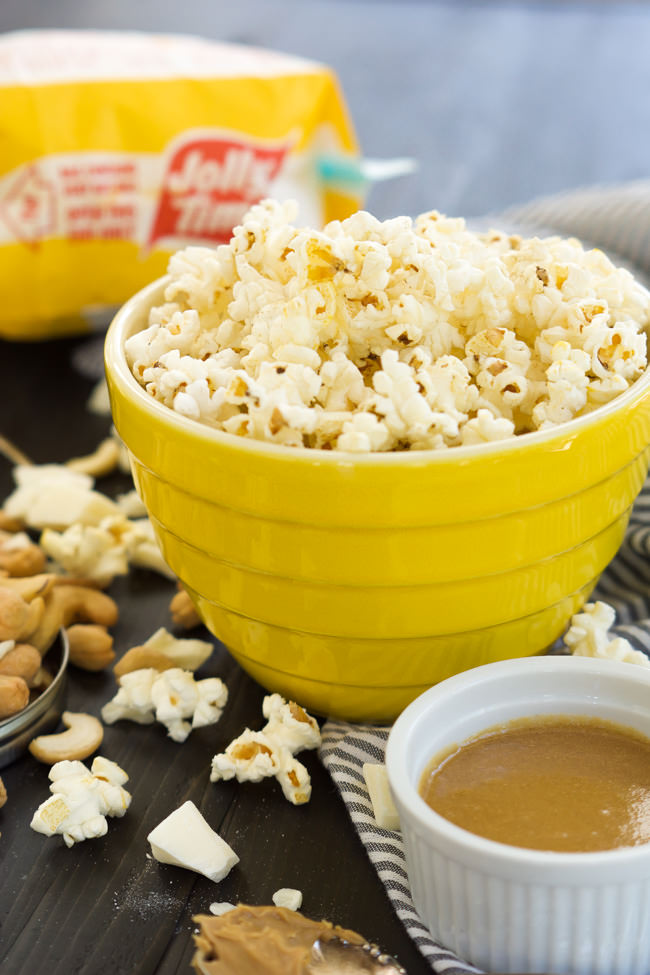 Oh, and for the fact that we are jetting off to Key West today! Talk about the perfect time to unplug! Let's call it a mini babymoon, shall we? For the next week, we will be spending our days basking in the sun with 5 of our closest friends to celebrate a 30th birthday. While we planned this trip before we knew we were expecting, we aren't going to let that prevent us from having a good time! Who says mocktails aren't a thing?
While I plan to fully indulge in Nojito's (virgin Mojito's, get it?!) and ice cream sundae's on the daily, I also plan to completely unplug from social media, technology and even step away from the blog a bit. Something that I highly encourage everyone to do. I feel like so many precious moments are slipping through our fingers because we are too busy scrolling through Instagram, liking status' on Facebook and pinning the next recipe we are craving. I am fully guilty, but each day I make an effort to spend quite time with not only myself, but my husband. And any family or friends that I meet with. If it's lunch, the phone is in the purse.
Let's be real. The world will go on if you are not eyeing your phone for an hour!
While I would love to travel every weekend to unplug and connect, it may not be the smartest on the wallet. Rather, date nights in with Dustin are second best. Whether we have pizza night or a dinner filled with our favorite tapas, we always end with a movie and popcorn. How can you watch a movie without a big bowl of buttery popcorn? Or kettle corn if you are my hubs. Both are winners in my book and together they are a match made in heaven.
With JOLLY TIME Pop Corn, it makes movie time a breeze. I love their 100 Calorie bags, both in butter and kettle corn. Perfect portion control and full on flavor. You would have no idea they are lighter from the full burst of flavor you get with each kernel.
And you know how to step a bag of popcorn up a notch? Drizzle it with a homemade peanut butter caramel sauce.
Say what?
All natural, wholesome ingredients that turn into a caramelized, buttery sauce when heated and poured over salty popcorn. The best of so many worlds. The sauce takes a meer minute to make, pour over the popcorn and toss with white chocolate and salty cashews. The heat of the sauce starts to melt the chocolate.
Heaven is what that is called. If this is what unplugging looks like, I am all for it.
Visit JOLLY TIME Pop Corn's Unplug Pop Connect for a coupon and to share how your family pledges to unplug and connect!
And make sure to connect with JOLLY TIME Pop Corn on Facebook, Twitter and Instagram!
Skinny Peanut Butter Caramel Popcorn with Cashews & White Chocolate
A sweet and salty treat that takes minutes to make! Skinny Peanut Butter Caramel Popcorn is made with only natural ingredients and is tossed with cashews and white chocolate for a sweet treat!
1 hrPrep Time
2 minCook Time
1 hr, 2 Total Time
Yields 4
Ingredients
1 bag Jolly Time 100 Calorie Healthy Pop Kettle Corn
2 tablespoons natural peanut butter
1/4 cup honey
1/4 cup chopped cashews
2 tablespoons white chocolate chips or chunks
Instructions
Pop the bag of Jolly Time according to the package instructions. Place in a large bowl.
In a small bowl or ramekin, add the peanut butter and honey. Microwave for 30 seconds. Stir. Microwave for another 30 seconds to completely melt, if not already melted. (This will vary on how warm your house is.) Stir again to completely combine.
Pour the peanut butter mixture over the popcorn mixture and gently stir to cover the popcorn.
Add the cashews and the white chocolate chips. Spread out onto a parchment lined baking sheet. Let cool for 1 hour. (Again, this will be determined by the humidity level that day). But if you prefer, eat right away! It will just be stickier!
7.8.1.2
232
https://withsaltandwit.com/skinny-peanut-butter-caramel-popcorn/
Looking for more healthy desserts?
Greek Yogurt Funfetti Cupcakes for Two
No Bake Cake Batter Cheesecakes with Sugar Cookie Crust
Greek Yogurt Peanut Butter Cheesecake
If you make this recipe, make sure to snap a photo and hashtag it #HOUSEWIFEINTRAININGFILES. I'd love to see what you are cooking up in your kitchen!
33