Spinach, Roasted Red Pepper and Chicken Pizza with Garlic Whole Wheat Crust is nutty, slightly sweet, savory and garlicky all in one bite!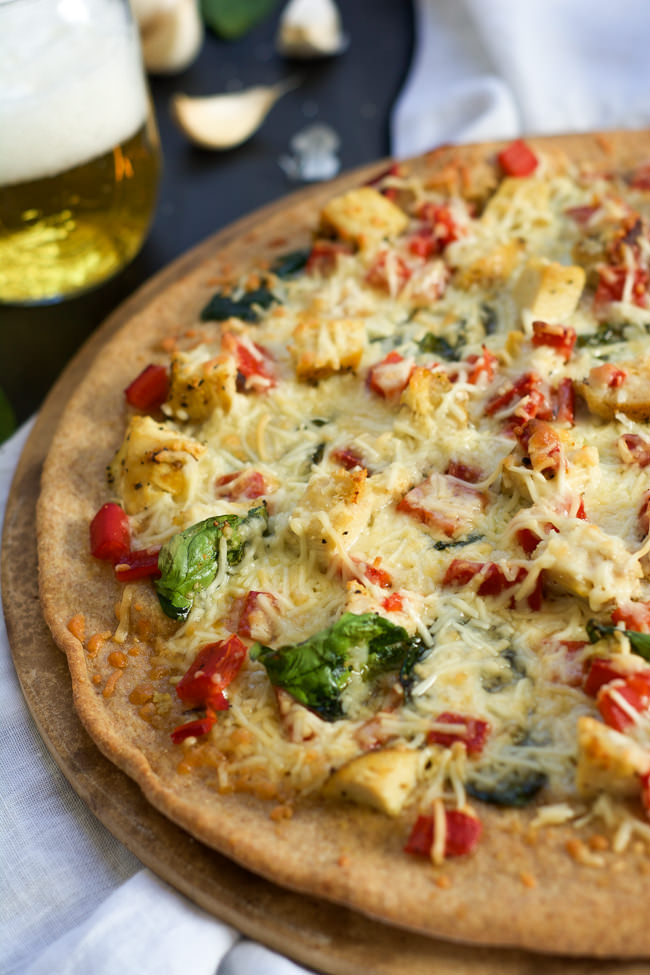 If there was one pizza to make my pizza dreams come true, this would be it.
Pizzas share a special place in my heart. And I think I can speak for most os us here and say it makes us all warm and fuzzy on the inside.
For the past few years, my husband and I have forged expensive dinners out on Valentine's Day and spent our evening making our kitchen into a pizzeria, sipping wine and setting a blanket out for our intimate dinner in. The idea of having a delicious dinner with my main squeeze in our PJ's and minus couples filled restaurants is always a perk. Let's be honest, its a made up holiday anyways!
Plus why only shower your love one day a year when you can all year long? I know it sounds cheesy but hear me out.
Recently, my husband and I have tried to do more for each other. Everything from someone just unloading the dishwasher to planning a surprise date for us to enjoy. Thank you to Taylor with Food Faith Fitness for this idea! She has been a great influence on how to 'date your husband.'   And honestly, trying to have the mindset of treating your love like Valentine's day more often helps to keep the spark going.  Now let's be clear. I don't suggest blowing your budget on presents every day…forget the fluffy bear. But I will accept diamond necklaces any day…
With our special Valentine's Day approaching, I have already started to brainstorm my pizza creation for this year. The husband never strays from his beloved BBQ Chicken with Pineapple (which he is dying for me to but on here), but I take the more classic route of olive oil brushing, spinach and a whole lotta cheese. The addition of roasted red peppers and chicken is a bonus. White pizzas, such as margarita pizzas, are perfect for those that don't care for the traditional pizza sauce. Which I have my time and cravings for. But mostly, I just want cheese on cheese on cheese!
 Da crust though! Whole wheat crust gives this pizza a slight nutty character. And the garlic? Think garlic breadsticks. But with the WHOLE pizza! #Winning.
A key to a stress free pizza dinner? Quick rising yeast! It creates the perfect chewy and crunchy crust. With the help of Fleischmann's Pizza Yeast, this dough doesn't require any rising time as you throw it into the dry ingredients, then add the liquid and on you go.
No need to let it rise? Music to this lil bakers ears.
 While the parmesan was the simpler route, this pizza would da bomb with a cheese blend. Fontina anyone?  And heck, while we are at it, why not toss on some bacon? No explanation needed!
Spinach, Roasted Red Pepper and Chicken Pizza with Garlic Whole Wheat Crust
Spinach, Roasted Red Pepper and Chicken Pizza with Garlic Whole Wheat Crust is nutty, slightly sweet, savory and garlicky all in one bite!
15 minPrep Time
15 minCook Time
30 minTotal Time
Yields 8
Ingredients
13/4 - 21/4 cups whole wheat flour
1 envelope Fleischmann's Pizza Yeast
11/2 teaspoon sugar
3/4 teaspoon salt
2/3 cup of very warm water
4 tablespoons extra virgin olive oil, divided
1 tsp garlic powder
1 cup cooked, diced chicken
2 roasted red peppers, diced
2 cups shredded parmesan
1 cup baby spinach leaves (not packed)
Instructions
Preheat oven to 425 degrees F.
Combine 1 cup flour, undissolved yeast, sugar. and salt in a large bowl. Add water and 3 tablespoons of olive oil.
Mix together until well blended; about 1 minute.
Add 1/2 cup flour gradually until dough forms a ball. Add additional flour, to handle.
Spoon dough out of bowl onto floured surface. Dough will be slightly sticky.
Knead on floured surface. Knead until dough is smooth and elastic, about 4 minutes.
Roll dough to a 12 inch circle and transfer to greased pizza pan. Press out to fill greased pizza pan. Sprinkle with garlic powder.
Top evenly with spinach, chicken, roasted red peppers and top with cheese.
Bake on bottom oven rack for 12 to 15 minutes, or until cheese is bubbly and crust is brown. Cut into 8 slices.
7.8.1.2
185
https://withsaltandwit.com/chicken-pizza-with-garlic-whole-wheat-crust/
 Craving more pizza?
Maple Roasted Vegetable & Crispy Bacon Flatbread
Caramelized Onion, Sun Dried Tomato and Chorizo Pizza
Double Cheese White Pizza Quinoa Bake
If you make this recipe, make sure to snap a photo and hashtag it #HOUSEWIFEINTRAININGFILES. I'd love to see what you are cooking up in your kitchen!
*This is a sponsored post written by me on behalf of Fleischmann's Pizza Yeast. But as always, opinions are my own! Thank you for supporting companies that support The Housewife in Training Files!
2