A refreshing and fruit filled drink! Skinny Watermelon Limeade is pureed watermelon and lime juice mixed with simple syrup for a light and healthy beverage!
I feel like this Friday needs some excitement. If moving in a week isn't enough, a bright, fruity and fresh beverage is just what the doctor ordered!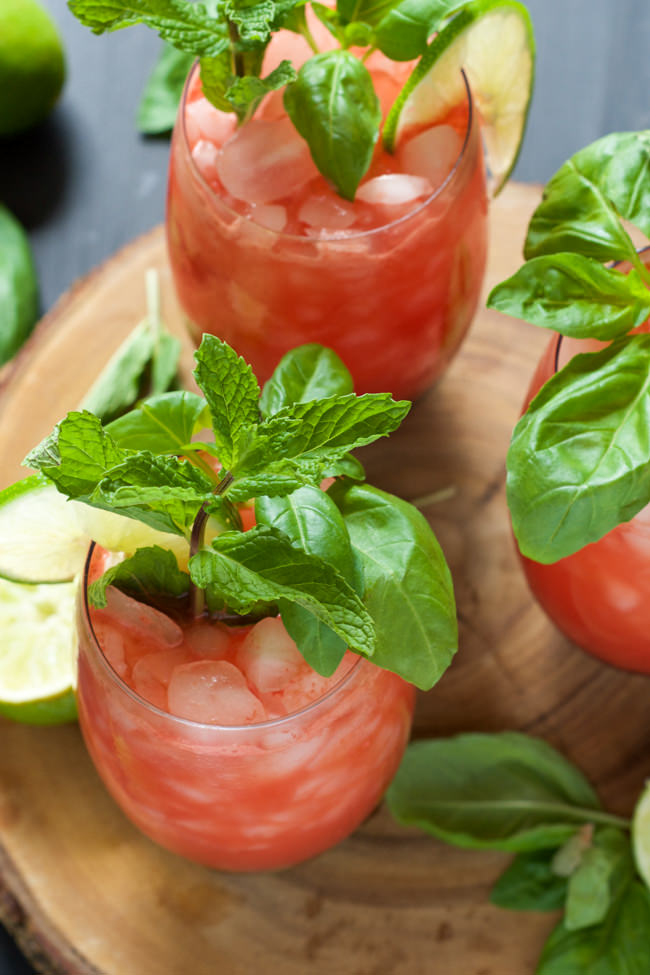 I am just itching to get outside, light up that grill and not to mention, the enjoy a few tasty beverages.  Have you started to plan any summer parties? Are the the party thrower or party goer? While I prefer both, there is something fun about hosting and inviting your closest buds over for an afternoon or evening to enjoy some sun shine.
There are few tricks to the trade to not losing your mind while hosting. I have teamed up with hayneedle.com to bring you tips and tricks to creating a stellar summer party! First off, choosing a theme. Is it a holiday theme or is it a burgers, brats and beer sorta party? Planning it all out ahead of time will ensure less chaos on the days leading up. Second, be sure to reach out to friends; whether that is via an e-vite or a phone call, it helps to let people know as soon as possible to ensure you get on their calendar. Third, decor and serving pieces. Whether that is your favorite outdoor serving pieces to outdoor candles and lanterns. They all spruce up your space to great an inviting atmosphere! And make sure to think of seating. No one likes being forced to stand the whole time!
Lastly, the menu! Perk of party hosting to me! I like to keep things simpler when feeding a large amount of people. While foods made in slow cooker (think shredded Mexican chicken) or a night of burgers and brats on the grill with a few premade dishes – such as chilled pasta salad, a refreshing fruit salad for the change on a typical green salad and appetizers that are finger foods are always a hit. And what is a get together with a beverage? This area alone gets my wheels turning!

What did I end up with when my wheels started turning? These Skinny Watermelon Limeades! As in, I drank this entire recipe all by my lonesome before the hubs even came home from work. Leaving him zero. Zilch. Nada. But that only meant one thing. A second batch had to happen. Which only good things come from a second round. Recipes usually benefit for more trials and let me tell you. These watermelon limeade's do no disappoint!
They are tart from the lime, slightly sweet and skinny thanks so the Truvia simple syrup! I love swapping Truvia for sugar in all my simple syrups (as in my strawberry lemonade and 5 o'clock approved, Blueberry Mojito). While this is not a sponsored post for Truvia, I just have found it works perfect in lowering the sugar and calorie content while still providing that sugary fix I am looking for in certain recipes! Plus not to mention they are the ideal drink to whip up for you next summer soiree!
This limeade is simple to make. After a quick boil of water and Truvia, it heads to the freezer to get chilly. Meanwhile, puree fresh watermelon then strain to remove the pulp. Place the fresh juice (which is levels above store bought juice) into a pitcher with fresh squeezed limes, add simple syrup then give it a good stir. Pour over a tall glass of ice, garnish with mint, basil and lime wedges and sit back. Enjoy the taste of summer on your lips!
meal prep tips:
i love making this skinny watermelon limeade to sip on for a few days! It stays fresh for about 72 hours in the fridge, in a sealed container.

make ahead of time and bring to a BBQ or family get together! A healthy and flavorful beverage!
Make sure to check out this Skinny Watermelon Limeade recipe also over at Hayneedle where we teamed up to create a seemless Summer Soiree and summer cocktails!
Skinny Watermelon Limeade
A refreshing and fruit filled drink! Skinny Watermelon Limeade is pureed watermelon and lime juice mixed with simple syrup for a light and healthy beverage!
15 minPrep Time
5 minCook Time
20 minTotal Time
Yields 4
Ingredients
1 cup water
2 tablespoons Truvia
3 1/2 heaping cups diced seedless watermelon
3 large limes, juiced
For Garnish:
Mint
Basil
Lime wedges
Instructions
In a small saucepan, bring the water and Truvia to a boil. Let boil for 5 minutes, then turn off heat, add simple syrup to a glass container, and place in the freezer to cool while you prepare the rest of the drink.
Place the watermelon in a high-powered blender and completely puree. Place mixture in a strainer and push mixture through to remove all pulp.
Place watermelon juice in a glass pitcher. Add the juice of three limes and the simple syrup (make sure it's cooled). Stir.
To serve, fill glasses with ice and limeade, and garnish with mint, basil, and lime wedges if desired.
To keep, refrigerate in a closed container. Limeade is best within 48 hours of making.
7.8.1.2
231
https://withsaltandwit.com/skinny-watermelon-limeade/
If you make this recipe, make sure to snap a photo and hashtag it #WITHSALTANDWIT. I'd love to see what you are cooking up in your kitchen!
54