Roasted Herb Potatoes with Garlic Cumin Aioli are crunchy and creamy and served with a simple, garlic and cumin loaded aioli! 
There are so many reasons to love living in the midwest.
Ability to experience all four seasons. Big yards. Green grass. Butter drenched corn on the cob. KC style BBQ. Country Club Plaza shopping and restaurant district and being just a short drive to the Lake of the Ozarks.
Then the not so fun? Humidity makes for really terrible hair days. No where near the ocean. Constant weather change and my least favorite, tornadoes.
Monday evening was the closest I have come to experiencing a tornado for as long as I can remember. We have been quite lucky, as there have been some pretty killer tornados all around the midwest, and leaving a few towns flatlined. Such a heart wrenching thing and last night, as I sat in our basement, my stomach was churning.
I couldn't imagine losing our house. We just bought it! And I have spent so much time decorating…
As for that tornado that touched down just 10 minutes south of us? He knew not to mess with this mama, so he stayed away. Phew!
Despite not loving tornados, you know what I love? Roasted potatoes. I feel in love with them last year and since then I have been making them nonstop. They are stupid simple and an inexpensive side dish. One that the hubs will always go for.
I love to toss them in a bit of olive oil (or coconut oil) so they are super crunchy on the outside and creamy on the inside. Just big ol french fries really…
Today's version was inspired on a date night to our favorite Spanish tapas resturant. Remember those prosciutto wrapped, chorizo stuffed dates? Yup same restaurant. Pretty soon, I will have the whole menu on this here blog…
The potatoes are tossed in a few herbs, but kept simple as the sauce is where its at. A garlic cumin aioli that is good on nearly anything you pair it on. Sandwiches. Grilled chicken. You name it. Devour it.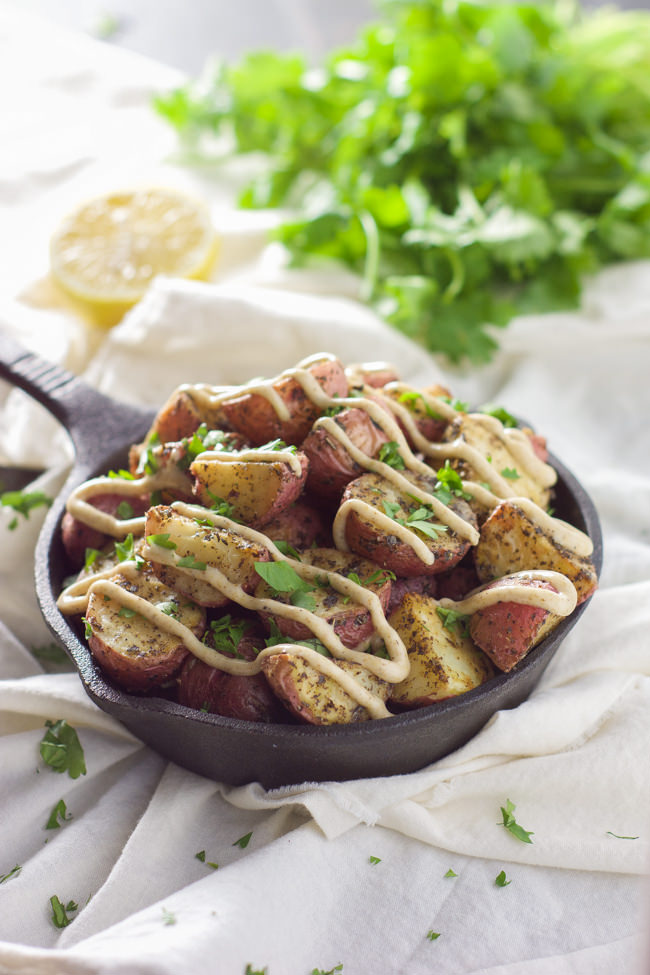 Rather than going the greek yogurt route, while it is healthier, I don't feel it gives the true aioli flavor. So I found this organic, light mayonnaise from my local Sprouts and have been blown away by how much I enjoy it! As someone that has had a strong opinion about mayo for years, I am pleased to have found one I enjoy, sans the eggs! So when I found this one was egg free, I had to try it.  Previously, I found them too eggy. Which is ironic as I am allergic to them…seems fitting right?
The aioli comes together quickly after a few ingredients and a good whisk. You can prep it ahead of time, store in an air tight container in the fridge until ready to use! I have made it three times in the past month so let's just say, it goes with just about everything and deserves to be on your dinner table tonight!
Roasted Herb Potatoes with Garlic Cumin Aioli
Roasted Herb Potatoes with Garlic Cumin Aioli are crunchy and creamy and served with a simple, garlic and cumin loaded aioli!
7 minPrep Time
23 minCook Time
30 minTotal Time
Yields 6
Ingredients
Potatoes:
2 pounds baby red potatoes, cleaned and cut in half
2 tablespoons olive oil
1 teaspoon dried basil
1 1/2 teaspoons salt
1 teaspoon black pepper
Garlic Cumin Aioli:
1/2 cup organic, low fat mayonnaise
1/2 lemon, juiced
1 teaspoons garlic powder
1 1/2 teaspoons ground cumin
3/4 teaspoons salt
1/4 teaspoons pepper
Instructions
Potatoes: Preheat oven to 415 degrees F. Line a baking sheet with foil (for easy clean up).
Toss the potatoes into a mixing bowl. Add the oil and toss to coat the potatoes well.
Add the basil, salt and pepper. Toss well to ensure all sides are evenly coated.
Add the potatoes to the foil lined baking sheet, spread out evenly to ensure they crisp rather than steam. Place in the oven.
Cook for 10 minutes then flip potatoes onto other side.
Let bake for 13 or so more minutes, or until potatoes or tender and crisp. This cooking time may vary depending on how large or small you cut your potatoes.
Aioli: Meanwhile, combine the ingredients for the aioli and stir until well combined. Reserve to serve with potatoes.
When potatoes are done, serve immediately with the garlic cumin aioli.
7.8.1.2
257
https://withsaltandwit.com/roasted-herb-potatoes-with-garlic-cumin-aioli/
Looking for more easy side dishes?
Grilled Summer Vegetable & Quinoa Salad with Lemon Basil Vinaigrette
Simple {no cook} Zucchini Caprese Salad
Tuscan Oven Roasted Red Potatoes
14