Pear, Brie and Bacon Flatbread are a simple dinner filled with sweet, salty and savory flavors that can be on your table in 15 minutes!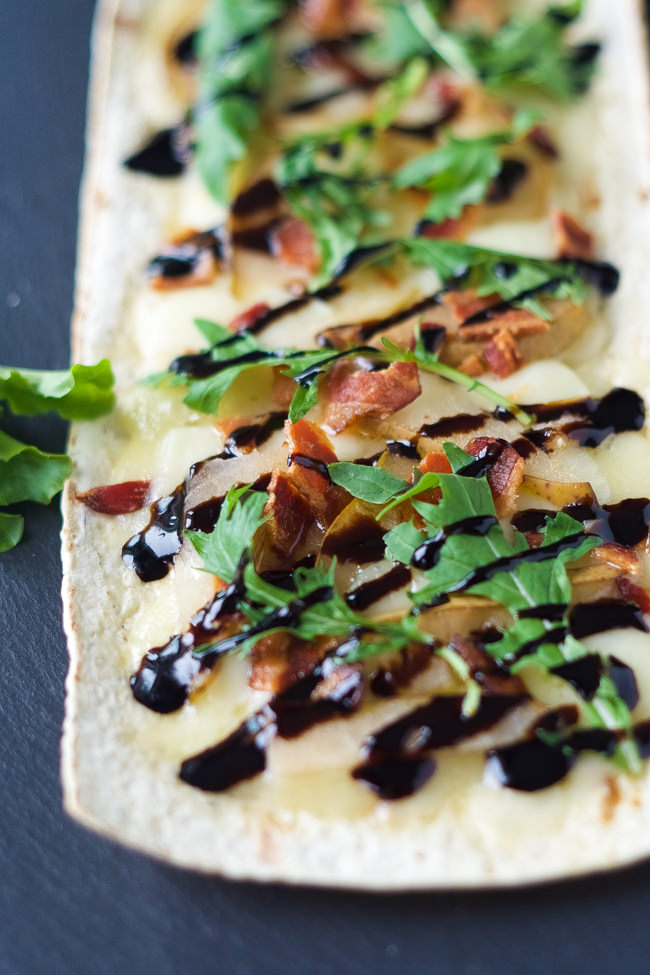 It's Friday! And you know what that means to me?
Pizza Friday! Or just date night really…
But first….I am pretty ecstatic that I finally took a photography workshop! Even though I have been shooting for about a year and half for this blog, I have had troubles stepping out of my comfort zone or really understanding my cameras modes when in certain lighting positions and such. So when I bought myself a new toy, I knew it was time.
Let me tell you. I have never been so excited to set up a shoot as I was this week.
Being able to understand manual mode along with lighting is a game changer. Once you got those down, you can start creating the artistic style photos you have envisioned in your head. Such as portrait pictures with the starburst sun in the background or how to get photos with a super blue sky in the background. Or as for most of my day to day shooting, being able to be in low lighting settings and still creating light and bright photos that look real, with dimension.
Can you tell I am excited?!
I am hoping to practice, practice, practice so I can step into portrait photography and possible wedding photography. Oh, the possibilities! Nothing like adding something else on my plate while in my third trimester for this babe. But hey, gotta keep challenging myself right?
So back to the food! Is pizza night a thing at your house? If not it will be after seeing how quick and easy this flatbread is. I am talking a whopping 15 minutes (plus one…but who's counting?) from start to finish. Dinner perfection.
The base is a precooked flatbread. I chose thin ones as I am thin crust lover. If you love thicker crusts, then choose naan or thicker flatbreads. Unfortunately, your baking time may be a bit longer. It's a give and take relationship here.
I sprinkle on a good layer of cheese. I start with cheese that melts really well, mozzarella. Then I add finely sliced brie which is like butter if you ask me. A cheese that is gooey all on its own and tastes even better once it's heated. Then top with sliced pears and chopped bacon. The pears provide the sweetness while the bacon adds the savoriness. Plus who can say no to bacon?
I am rather ashamed with how easy this dinner is. You won't judge me will you? But I feel that having these sorta dinners in our back pockets make our lives better. And not to mention,we appear to be a super hero when we come out with a delicious dinner in such a short amount of time. With dinner this easy, it saves you plenty of time to fit in a few more of those summer checklist items awaiting. Like making smores!
Pear, Brie and Bacon Flatbread
Pear, Brie and Bacon Flatbread are a simple dinner filled with sweet, salty and savory flavors that can be on your table in 15 minutes!
10 minPrep Time
6 minCook Time
16 minTotal Time
Yields 2
Ingredients
2 prebaked flatbreads (gluten free, if needed)
3/4 cup mozzarella cheese
2 ounces brie cheese, sliced very thin
1/2 of a pear, thinly sliced
4 pieces of bacon
Garnish:
Arugula
Balasmic glaze
Instructions
Preheat oven to 375 degrees F.
Place flatbread onto a baking sheet. Place in oven for 2 minutes.
Remove from oven, sprinkle with cheeses, pear slices and crumbled bacon.
Place back in oven and bake for 3-4 more minutes, or until cheeses are melted.
Remove from oven, garnish with arugula and balsamic glaze.
Slice into wedges and serve immediately.
Notes
*If using naan, a thicker flatbread or a gluten free crust, the baking times will have to be adjusted (lengthened) as I used very thin flatbreads.

*This makes a great appetizer or entree!
7.8.1.2
275
https://withsaltandwit.com/pear-brie-and-bacon-flatbread/
Hungry for more easy dinners?
Spicy Pineapple BBQ Pork Lettuce Wraps
Spicy Cilantro Shrimp Skewers with Honey Lime Dipping Sauce
Spicy BBQ Tex Mex Chicken Burgers with Garlic Butter
If you make this recipe, make sure to snap a photo and hashtag it #WITHSALTANDWIT. I'd love to see what you are cooking up in your kitchen!
51