Chipotle BBQ Chicken Cast Iron Skillet Pizza is our new favorite way to make pizza! Sweet and spicy BBQ Chicken pizza has a crispy crust thanks to the cast iron skillet!
I am breaking out of the norm today.
Not as in 'On Wednesdays we wear Pink', but as in throwing pizza into our dinner rotation on Monday.
Nope. Not saving this baby for Friday Pizza Night.
I have always loved pizza. What American doesn't? If you are on that side of the fence, we need to have a chat. Melty, gooey cheese with crispy carb goodness. It's every child's dream.
When I was little, I was all about the Hawaiian Pizza; you know the one with Canadian ham and pineapple. That sweet and savory combination was a hit and it is still with me today.
Lately, I am all about pizza. I can't get enough. I at least throw in some greens on the side for good measure. All about balance right?
This pizza has two things going for it: sweet and spicy pizza done in one pan. Uno pan. And second, it's cooked in a skillet! The result? One speedy dinner that is crazy good. One point for Megan.
This concoction is the hubs go to. I cannot get the kid to order anything else. Which forces me to order my own pizza. Until lately. When I have been devouring his pizza more than my usual spinach, chicken and roasted red pepper pizza. The base of the pizza is a mix of red pizza sauce and KC Masterpieces new Fiery Habanero Honey Barbecue Sauce. Real heat, balanced with a touch of honey. Then pile on the toppings! Red peppers, pineapple, red onions, chicken and cheese. And lots of it!
And we can't leave here without talking about the crazy good cooking method. Cast iron skillet!
You mean as cooked on the stove top? As in one dish? Bingo.
The cast iron skillet cooks your pizza in a few minutes, first on the stovetop, creating a super crispy crust that I love. After that flash cooking, place it in the oven for a minute, rotate, then wait another minute, then ding! You are ready to devour.
Just a warning; with how fast this pizza takes to make, you may find yourself heading to the kitchen to make another batch. Consider yourself warned.
Make sure to follow KC Masterpiece along on Pinterest, Twitter, Instagram, and Facebook!
Tools I used to make this recipe:
Cast Iron Skillet Chipotle BBQ Chicken Pizza
Cast Iron Skillet Chipotle BBQ Chicken Pizza is our new favorite way to make pizza! Sweet and spicy BBQ Chicken pizza has a crispy crust thanks to the cast iron skillet!
20 minPrep Time
8 minCook Time
28 minTotal Time
Yields 2
Ingredients
Dough: (NOTE: this recipe makes TWO doughs for skillet pizza)
13/4 - 21/4 cups white whole wheat flour (or all-purpose flour or gluten free flour)
1 envelope Fleischmann's Pizza Yeast
11/2 teaspoons honey
3/4 teaspoon salt
2/3 cup of very warm water
3 tablespoons melted coconut oil (or olive oil)
Pizza Toppings:
1/4 + 2 tablespoons pizza sauce
2 tablespoons KC Masterpiece Fiery Habanero Honey Barbecue Sauce
1 cup cooked, cubed chicken
1/4 cup diced red pepper
1/4 cup diced red onion
1/4 cup diced pineapple
3/4 cup mozzarella cheese
Cilantro, for garnish
KC Masterpiece Fiery Habanero Honey Barbecue Sauce, for garnish
Instructions
Dough:
Combine 1 cup flour, undissolved yeast, honey, and salt in a large bowl. Add water and oil.
Mix together until well blended; about 1 minute.
Add 1/2 cup flour gradually until dough forms a ball. Add additional flour, to handle.
Spoon dough out of bowl onto a floured surface. Dough will be slightly sticky.
Knead on floured surface. Knead until dough is smooth and elastic, about 4 minutes.
Divide dough in half. Reserve the other half for another time. Place one dough on a well-floured pizza peel and roll into the size of your skillet.
Assembly:
Place an oven rack directly under your broiler and preheat your broiler to the highest setting. As well as, place your cast iron skillet on the stovetop, turning the heat on medium. You want to heat the skillet for 10 minutes. If the skillet starts to smoke, turn down the hit but we want the skillet screaming hot!
While the skillet is preheating, add your toppings on your dough. Make sure your pizza is on a well floured pizza peel because we will be transferring to the hot skillet soon!
Place a potholder or thick towel on the handle of the skillet (it will be very hot). Carefully slide the pizza into the skillet, dough side down.
Cook for 5 minutes, or until the bottom is golden brown. Turn off the burner, and place the skillet in the preheated oven. Broil for 1 minute and rotate 180 degrees, broiling for only 1 more minute. Remove from oven and place on stovetop. Let cool slightly for about 5 minutes, then use a spatula to remove the pizza.
Garnish with cilantro and an extra drizzle of BBQ sauce, if desired
Notes
7.8.1.2
309
https://withsaltandwit.com/chipotle-bbq-chicken-cast-iron-skillet-pizza/
Craving more pizza?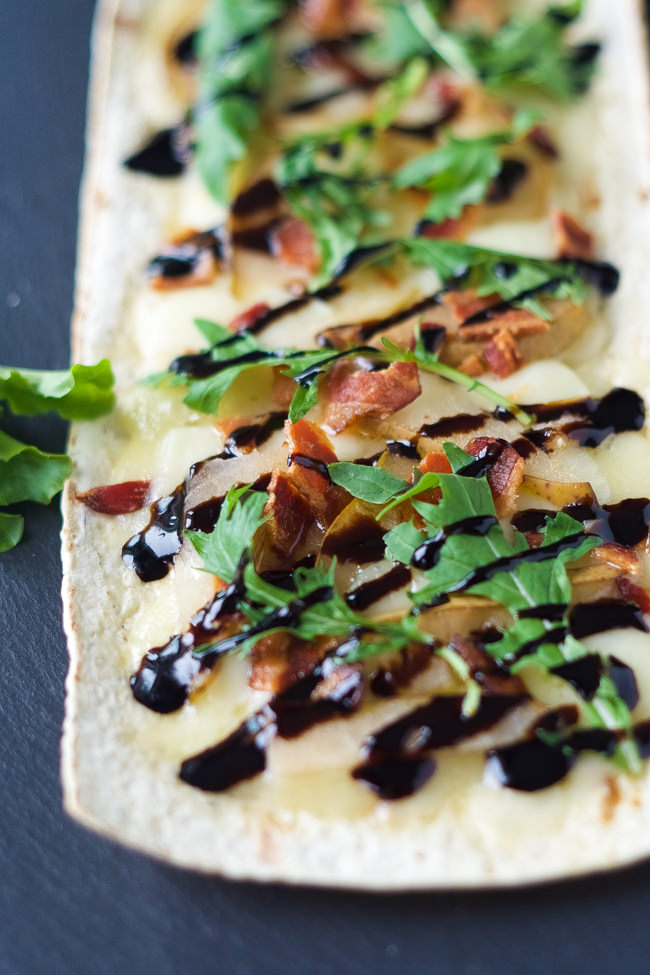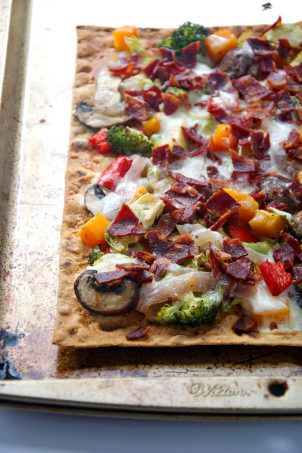 Maple Roasted Vegetables and Bacon Flatbread
Spinach, Roasted Red Pepper and Chicken Pizza with Garlic Whole Wheat Crust
If you make this recipe, make sure to snap a photo and hashtag it #WITHSALTANDWIT. I'd love to see what you are cooking up in your kitchen!
This is a sponsored conversation written by me on behalf of KC Masterpiece. The opinions and text are all mine.
62