A healthy takeover make over! Skinny Sweet and Sour Shrimp Lettuce Wraps are full of Asian flavors, lighter and ready quicker than you can call take out!
For that one time that I actually crave chinese.
And I don't mean dialing up your local Chinese restaurant that will be at your house before you hang up the phone. There is a time and place for greasy and questionable Chinese food. We already went over them and concluded that those were reserved for my college days.
These days I crave tender shrimp tossed in a sweet and spicy sauce with crisp vegetables and juicy pineapple all over a fluffy bed of white rice.  There is something to say for that addicting pile of rice that comes with every dish.  The rich sauce that melts into it rice make those dishes pretty irresistible but are less than figure friendly so with a new year and new resolutions, so now I decide to for go a lighter route with lettuce wraps!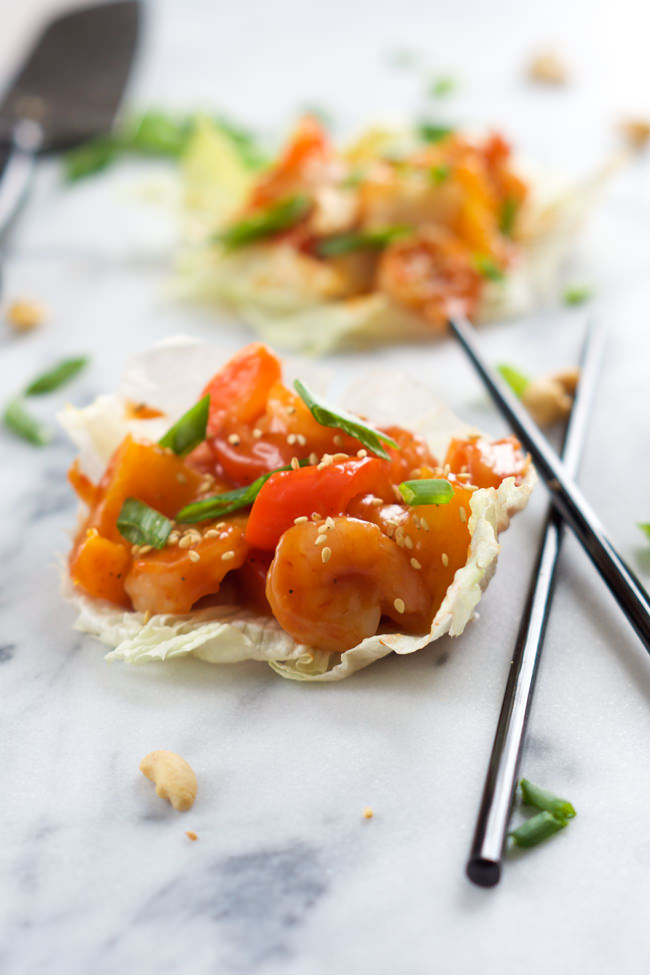 How much more perfect can lettuce wraps be? You still get 100% flavor but without the feeling like you will have to be rolled out.  The filling is where the money's at anyways! I lightened up the sauce with a homemade version with ingredients that you may already have lying around you house; soy sauce, honey, apricot jam, vinegar and tomato paste.
This dish comes together rather quickly making it ideal for a weeknight meal. Chop up your veggies and pineapple, give them a good sear. Then toss your shrimp into the skillet for a few minutes to get pink then add your sauce during the last few minutes of cooking. The shrimp finish cooking while the sauce thickens up.
Rather blowing all my calories on the filling rice, I will go my lettuce wraps route.  More flavorful filling > rice.  Less carbs + more veggies and proteins = room for dessert.  Which is always a win in my books.
Grab the recipe for these Sweet and Sour Shrimp Lettuce Wraps over at Rachel Cooks!
Hungry for more seafood?
Corn & Kale Salsa Verde Shrimp Enchiladas
{30 Minute} Coconut Lime Shrimp Tacos with Mango, Red Pepper & Avocado Salsa
{Gluten Free} Macadamia & Coconut Crusted Tilapia
15