Slow Cooker Hawaiian Pork Burrito Bowls are a dinner saver as they cook all day in a homemade enchilada sauce then topped with sautéed peppers and juicy, seared pineapple!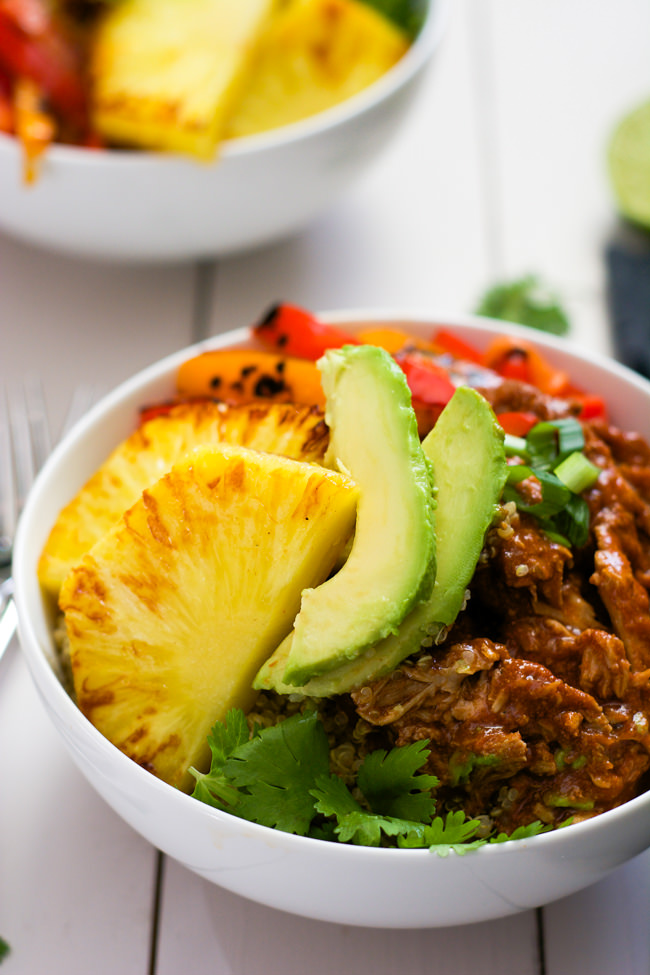 About these Slow Cooker Hawaiian Pork Burrito Bowls Recipe
Would you be shocked to hear that I don't always love cooking dinner? Everyone has their moments. But over the past few years, my life has drastically changed. We have 2 toddlers, ages 4 and 1, and dinner hour happens to be their favorite hour to really get ramped up. It also happens to be the hour that I most crave a glass of wine. Coincidence? I think not.
During those evenings that I just can't quite pull myself together, I thank my lucky stars I have simple recipes like these Hawaiian Pork Burrito Bowls to save me!
Ingredients you'll need for this Recipe:
Pork
Coconut Oil or Olive Oil
Pineapple juice
Quinoa
Bell Peppers
Homemade Enchilada Sauce or your favorite store-bought sauce

Tomato sauce
Tomato paste
Chili powder
Cumin
Onion Powder
Garlic Powder
Paprika
Cayenne
Salt & Pepper

Optional Garnish – Green Onion, Avocado, Pineapple, Cilantro
How to make Enchilada Sauce
This homemade enchilada sauce recipe is rather simple as all the ingredients are added straight to the slow cooker and all the magic is done low and slow! But a classic easy enchilada sauce recipe comes together quickly by simmering over the stovetop. If you are looking for a stovetop version, check out this enchilada sauce recipe from Cookie + Kate!
How to Make Hawaiian Pork
For maximum flavor, I chose to first season the Hawaiian Pork, then sear on the stovetop before adding to the slow cooker. It helps to provide those crispy, flavor-filled edges, which happen to be my favorite!. But if you are short on time, skip searing the pork and add all ingredients to the slow cooker and forget it.
If you do decide to sear the pork first, here is a quick play by play!
Sear the seasoned pork.
Once seared add to a slow cooker and top with enchilada sauce. Then, set it and forget it!
Shred the pork and add back to the slow cooker to soak up the delicious enchilada sauce!

What to Serve with Hawaiian Pork
What I love about this recipe is the pork mixture is so versatile! We typically serve it with quinoa, sauteed bell peppers, fresh pineapple, and avocado. But it's your bowl, so customize it how you please! Some tasty ideas would be white rice, brown rice, and cauliflower rice for a low carb version!
How to store Hawaiian Pork Burrito Bowls
The best way to store Hawaiian Pork is in an airtight container in the fridge for 5 to 7 days. This is a great opportunity to meal prep for future lunches and dinners. Simply divide the Hawaiian Pork, quinoa, peppers and pineapple in individual containers. And voila, your meals are ready for the week!
Can you freeze it?
Yes! That is one more reason I adore this recipe. It freezes and thaws wonderfully. Simply add the pork to a freezer bag, release as much air as possible, seal, then lay flat on a cookie sheet in the freezer until frozen. I love the cookie sheet trick as it allows for maximum storage in the freezer since you can stack items on top of each other.
The same trick goes for the quinoa. If you choose to prepare a large batch of quinoa, simply store cooled quinoa in a freezer bag and freeze flat on a cookie sheet.
To thaw, simply remove items from the freezer the evening before, and let thaw in the fridge.
meal prep tips for the Hawaiian Pork Burrito Bowls:
Cook and cool quinoa. Store in a sealed container in the fridge then reheat before serving.

Pre chop veggies. Store in a sealed container in the fridge. Or cook the veggies, store in the fridge then reheat at mealtime.

This meal reheats well so make earlier then reheat at mealtime, ie. lunches, dinner.
more easy slow cooker recipes
Hawaiian Pork Burrito Bowls

Slow Cooker Hawaiian Pork Burrito Bowls are a dinner saver as they cook all day in a homemade enchilada sauce then topped with sautéed peppers and juicy, seared pineapple!

30 minPrep Time

3 hr, 30 Cook Time

4 hrTotal Time

Yields 6

Ingredients

Enchilada Sauce:

(14.5 oz) can tomato sauce
2 tablespoon tomato paste
2 tablespoon chili powder
2 tablespoon cumin
1 teaspoon onion powder
1 teaspoon garlic powder
1/4 teaspoon paprika
1/8 teaspoon cayenne
1/4 teaspoon salt
1/4 teaspoon pepper
1 cup pineapple juice

Pork:

1 tablespoon coconut oil (or olive oil)
2 lbs pork sirloin roast
2 teaspoon cumin
1 teaspoon chile powder
2 teaspoon salt
2 teaspoon pepper

Garnish:

1/2 tablespoon coconut oil
1 1/2 cups quinoa, uncooked, rinsed and drained
3 cups water
2 bell peppers, thinly sliced (I used red and orange)
1 green onion, thinly sliced
1 Pineapple, sliced into rings
Avocado, sliced
Cilantro, chopped

Instructions

Enchilada Sauce:

In a crock pot, add the ingredients for the enchilada sauce: tomato sauce through the pineapple juice. Whisk until well combined.

For the Pork:

In a large skillet, add the coconut oil and heat over medium high heat.
Season all sides of the pork with the cumin, chile powder, salt and pepper.
Add the pork to the skillet and sear on all sides, about 2 mins per side. Once seared add to a slow cooker . Spoon some of the enchilada sauce over the top of the pork. Cook on high for 3 1/2 hours, or until done.
Remove the pork from the slow cooker and onto a large plate. Shred with two forks. Place back into slow cooker and mix well with the sauce.

To serve:

Cook the quinoa according to the packages instructions. Set aside until ready to serve. Remove from the heat.
Meanwhile, in a large skillet, heat the coconut oil over medium heat. Add the peppers and sauté for 5 minutes or until soft. Remove from the heat and add the pineapple slices. Cook until slightly browned, about 1 minute.
To serve, add quinoa to a bowl, top with the pepper mixture then the pork. Garnish with the pineapple rings, avocado and cilantro.

7.8.1.2

161

https://withsaltandwit.com/pork-burrito-bowls/
If you make this recipe, make sure to snap a photo and hashtag it #WITHSALTANDWIT. I'd love to see what you are cooking up in your kitchen!
985