Peanut Butter Puppy Chow gets a Captain Crunch makeover with a childhood classic cereal!
If you know anything about me (or if you have read along for some time), then everything I am going to say will not be a shock to you.
Unless you have the memory like Dory from Finding Nemo. Despite her 'the glass is always half full' outlook on life, that poor girl can't remember a darn thing to save a few more bubbles in the sea of life.
Just in case, let's recap.
My love of peanut butter.  And more peanut butter. It makes my heart sing.
And secondly, my love of breakfast. It's the meal that makes me complete.
So what is a girl to do with wayyyyyy too many boxes of Captain Crunch laying around? (Besides eating like seventeen bowls for breakfast only to head back to the kitchen an hour later because she is STILL hungry…). Well two words for you.
Puppy.Chow.
Now I have your attention! In case you read this far without reading the actual letters on the page. Now you are for sure. I can feel it.
You can never go wrong with puppy chow. Old and young alike devour it. Then proceed to go off on a sugar high for the next six hours. My favorite pieces were the massive ones stuck together with enough powdered sugar coating them that it makes you cough when you inhale.  Yes, you know you all have done that.  Instant sugar high into instant cough attack.
Which is then proceeded with more sugar. And the entire cycle starts over. Puppy Chow is a tough biz.
This puppy chow is no ordinary puppy chow though. Oh no.
It is Captianized. Is that even a word?
Does it matter?
Captain Crunch (Crunch Berries and All Peanut Butter mostly) was one of my fav's while growing up. It was one the cereals that I feel like didn't turn into instant mush the moment it met milk.  Yet the flavor was sweet, salty, crunchy and insanely delicious.  So after a morning of consuming way too many bowls of said cereal, I knew exactly what I was doing with it.
And so here, my internet friends, we have  my newest and favorite puppy chow, this healthy puppy chow recipe. The puppy chow ingredients couldn't be any easier: Peanut Butter Captain Crunch doused with peanut butter, peanut butter chips and a bit (okay, a lot) of powdered sugar. Maybe one day I will stray and try something outside of my comfort zone.
Until then, I will gladly sit with my chocolate peanut butter puppy chow, with powdered sugar-coated fingers, enjoying a childhood favorite.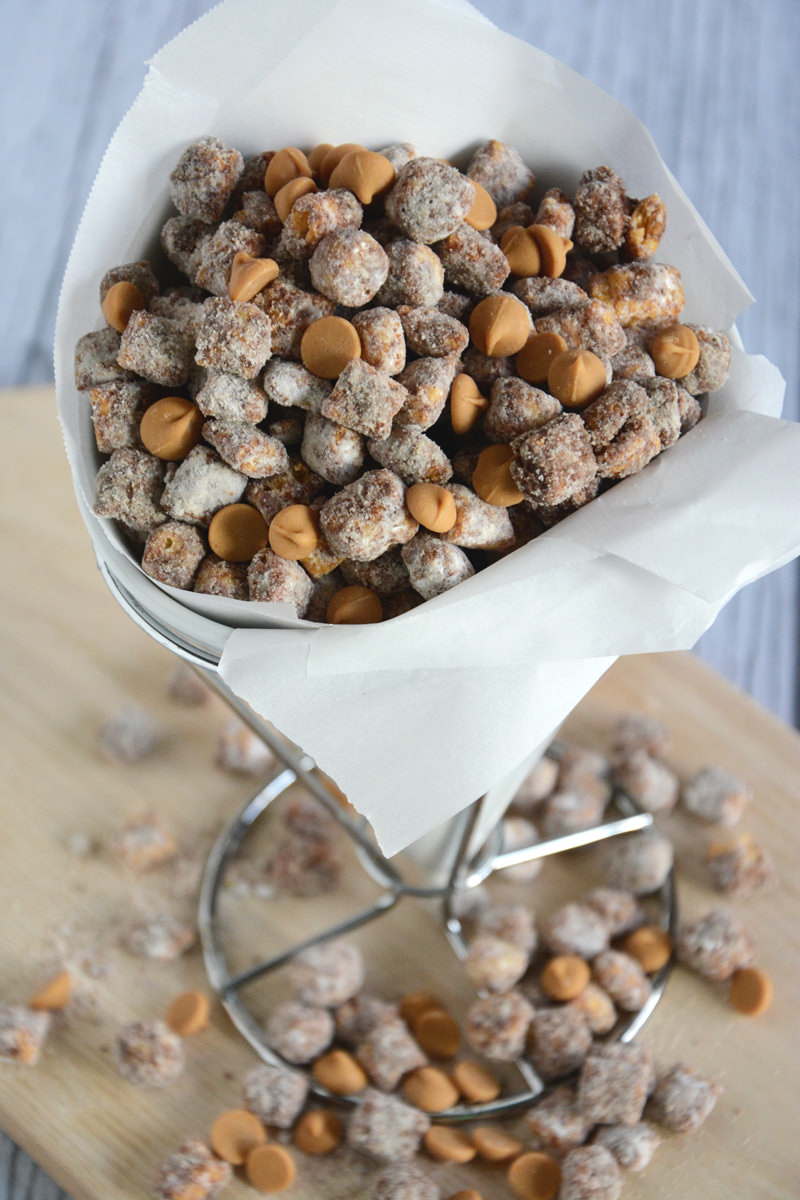 meal prep tips:
this is ideal make-ahead dessert or after school snack! make sure to store in a sealed container.
Captain Crunch Peanut Butter Puppy Chow
Puppy Chow gets a peanut butter makeover with a childhood classic cereal!
5 minPrep Time
5 minCook Time
10 minTotal Time
Yields 18
Ingredients
4 1/2 cups Peanut Butter Captain Crunch
4 1/2 cups Captain Crunch, regular
1 cup peanut butter chips, divided
1/2 cup chocolate chips, dairy free if needed
4 tablespoon butter
1/2 cup smooth, natural peanut butter
2 cups organic powdered sugar
Instructions
Melt 1/2 cup peanut butter chips, milk chocolate chips, and butter together in a double broiler or in the microwave on 50% power until chips are melted and butter is fully incorporated.
Stir in peanut butter.
Place cereal in a large bowl and pour chocolate mixture over. Gently stir to coat all of the cereal. Once all coated add the powdered sugar and stir gently again to fully coat all the cereal. (You can also do this in a large plastic bag.)
Once cooled add in extra peanut butter chips and Serve!
7.8.1.2
71
https://withsaltandwit.com/puppy-chow/

Craving more peanut butter?
Healthy Cookie Dough Peanut Butter Cups
Flourless Peanut Butter Chocolate Cookies

If you make this recipe, make sure to snap a photo and hashtag it #WITHSALTANDWIT. I'd love to see what you are cooking up in your kitchen!
227