Hawaiian BBQ Pork Tacos are filled with crispy, spiced pork and topped with an irresistible and juicy Pineapple Pico de Gallo! The ideal summer street taco! 
This weekend, life threw a few curveballs at me.
First, that wine and meatballs are a perfectly acceptable dinner. Followed by chocolate. The salted caramel really compliments the crispness of pinot grigio.
Actually, that's a lie. I do not know nearly enough about chocolate and wine pairings. Let's fix that. Anyone want to come drink wine and eat chocolate with me?
Say yes. Please.
Secondly, my ideal way to spend a Saturday afternoon is not on the side of the road with my little guy, after my car decided to start shaking then proceeding by being towed. We were headed to an art fair, where I was really looking forward to sipping on a glass of wine while looking at art with a price tag away above my check book limits.
So, what does that whole scenario lead to? See first finding of the weekend….
Wine and chocolate.
Third. It's been entirely too long since I have dove into an endless bowl of salty tortilla chips. What is wrong with me? I don't even know myself anymore.
Well now that our little guy is mobile, the thought of making him sit still for anything longer than 7 seconds, is the end to his world. Let's say we were 'those parent's' with the screaming child and having a hay day with anything he could get his hands on within arm reaches on the table.
After a few disastrous filled outings, we decided takeout tasted pretty darn good.
Now that my dining out days are far and few between, I just couldn't take my cravings for Mexican food any longer. Enter street tacos and a very large bowl of skinny queso.
At the local Mexican restaurant, they make these steller pork carnitas. As in, I never even glance at the menu because they are that good. Slightly sweet with a fresh salsa. Not heavy and all tucked into a charred tortilla.  So I knew I had to recreate something similar in the comfort of my own home.
To make some darn delicious street tacos, you have to have fresh ingredients. I start with FarmRich Smokehouse BBQ Dry Rub Pulled Pork, which I found at Walmart. For those times when I don't have 12 hours to spend smoking a pork, I love it for its convenience. And not to mention its short ingredient list: pork, water, seasonings…and nothing else. No weird preservatives or ingredients you can't pronounce. Sauce it up with your favorite BBQ sauce, or serve it dry; like I have here!
I love carnitas for their crispy edges, so I heated a touch of oil in a skillet, threw the pork in and added a good palmful of taco seasoning. I made sure to break the pork up so as much of it was exposed to the heat as possible. Heat = crispy bits!
While the pork was crisping away, the pico de gallo comes together. No ordinary pico, though.  Since its summertime (or close enough), I can't get enough of tropical, fresh flavors. Plus something about pineapple and spicy food just seems right. The pico is so simple and comes together in minutes. Cherry tomatoes, jalapenos, red onion, cilantro and lime juice join the party. Give it a good stir. Dip a chip in it. And love it.
Don't worry. Despite dining in, we even had the endless bowl of chips, salsa and few, potent margaritas!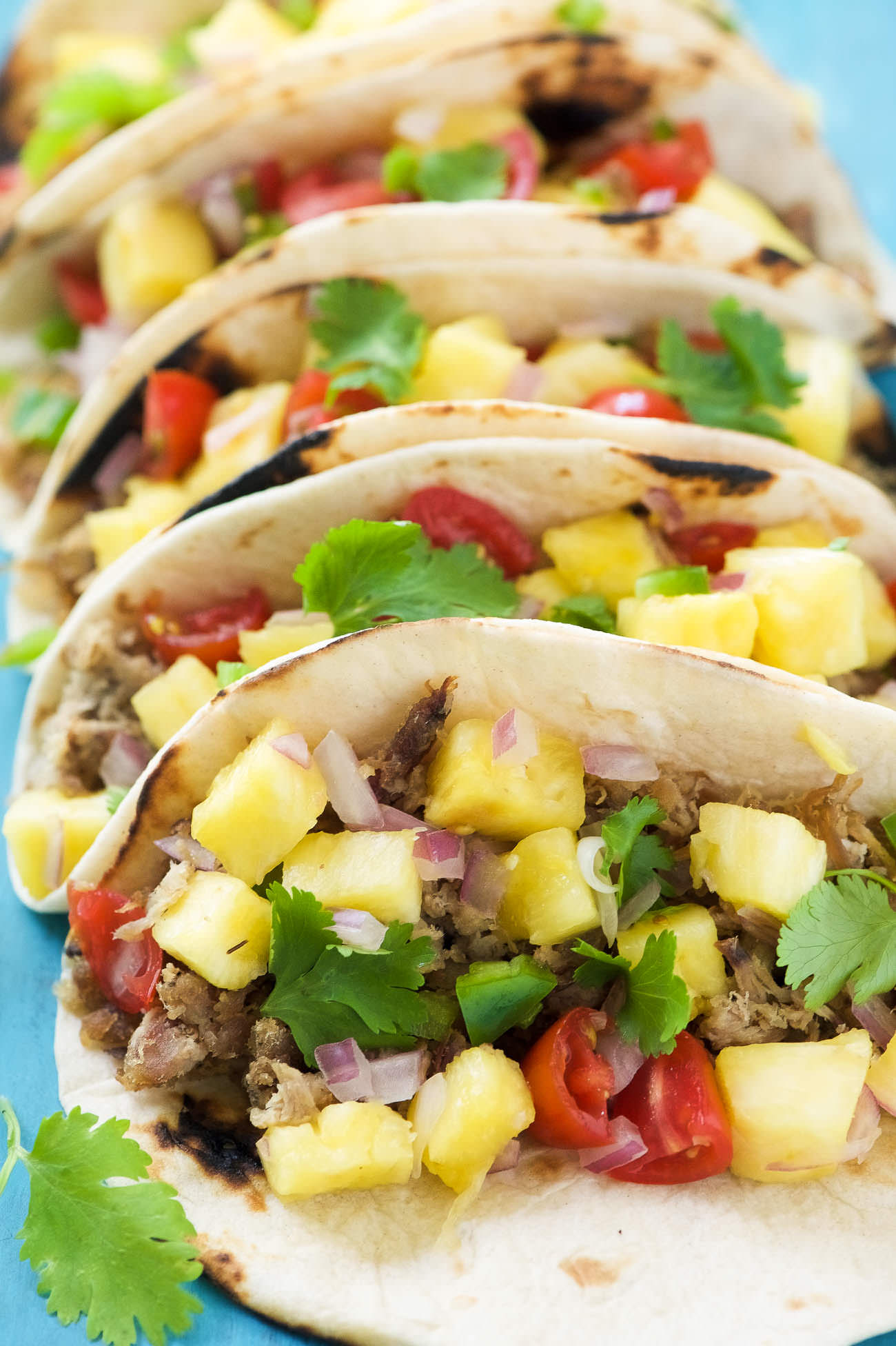 Make sure to enter your own BBQ recipe or hack featuring FarmRich Smokehouse BBQ! Enter by using #99DaysofBBQ on social media between May 30th and Sept. 5th .You could win a years worth of BBQ and a BBQ Party Pack! Plus grab a coupon
here
so you can start BBQ'ing!
Items I used to make this recipe:
Hawaiian BBQ Pork Tacos with Pineapple Pico de Gallo
Hawaiian BBQ Pork Tacos are filled with crispy, spiced pork and topped with an irresistible and juicy Pineapple Pico de Gallo! The ideal summer street taco!
20 minPrep Time
5 minCook Time
25 minTotal Time
Yields 8
Ingredients
Pork:
1 tablespoon olive oil
1 package FarmRich Pulled Pork
1 tablespoon taco seasoning
Pineapple Pico de Gallo:
2 cups diced pineapple
1 cup diced cherry tomatoes
1/4 cup diced red onion
1 lime, juiced
1/4 cup loosely diced cilantro
1/2 teaspoon salt
1/2 teaspoon pepper
1/4 teaspoon chile powder
Tacos:
8 small flour or corn tortillas, warmed
Queso Fresco, optional
Cilantro
Instructions
Pork: In a large skillet, add the olive oil and heat over medium heat.
Add the pulled pork. Break up with a spatula, ensuring as much pork is exposed to the hot surface as possible. (Hello crispy edges!)
Once heated, add the taco seasoning and stir to fully incorporate.
Pineapple Pico de Gallo: In a medium bowl, pineapple, cherry tomatoes, lime juice, cilantro, salt, pepper and chile powder. Taste and season, if needed.
When pork is heated and has crispy edges, top the tortillas with pulled pork, pineapple pico de gallo, queso fresco and cilantro. Serve immediately.
7.8.1.2
351
https://withsaltandwit.com/hawaiian-bbq-pork-tacos-pineapple-pico-de-gallo/
Hungry for more Mexican dishes?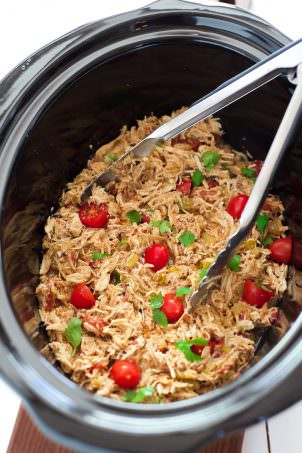 My Favorite Slow Cooker Shredded Mexican Chicken
Baked Firecracker Cheesy Chicken Taquitos
If you make this recipe, make sure to snap a photo and hashtag it #WITHSALTANDWIT. I'd love to see what you are cooking up in your kitchen!
This post is sponsored by FarmR. But as always, opinions are my own! Thank you so much for supporting the brands that With Salt and Wit loves!
46