Curb any chocolate peanut butter cup craving with these Peanut Butter Protein Bites that are healthy and come together in a jiffy!
Uh Oh! Guess what day it is? Guess-what-day-it-is?
Hump Day! Whoot Whoot!  You know that commercial? Yup, the one with the camel?  I may or may not have just watched it on repeat.
Oh makes me giggle every time.
But, no really. Guess what day it is?
It's another collaboration with Becky from The Cookie Rookie for The Rookie Housewife Cooking Class Series! In our previous posts, we have made some delicious recipes with sweet potatoes (check out her enchiladas. Drool worthy) and our last gig, we combined honey and blueberries to create one out of this world blueberry honey mint julep cocktail and flaky blueberry and honey cream croissants perfect for any brunch spread.
As we rattled our brains for our next ingredients, I couldn't get my 'go to' combo out of my head. And I have no doubt any one will appose. Chocolate and peanut butter will forever have a special place in my heart. Instantly comforting me when I have had a long day. Whether in a milkshake or by the spoonful, I will take chocolate and peanut butter in nearly any fashion.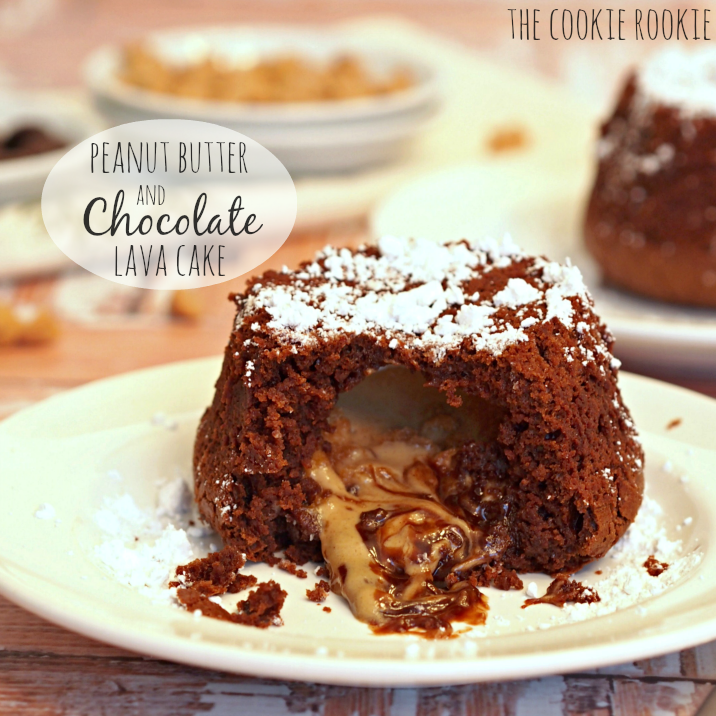 When Becky popped her Chocolate Peanut Butter Lava Cakes out of the oven, my jaw dropped. I immediately wanted to run to my kitchen and whip up these babies to curb my roaring craving. The melted and oh so gooey peanut butter filling, pouring out has my taste buds tingling. The moist, chocolate cake, with its rich flavor only intensifies with each spoonful of peanut butter goodness. So hop on over to Becky's blog to snag this drool worthy dessert!
Growing up, Reese's (and Heath bars) were my weapon of choice. Smooth, rich chocolate outside, only to reveal the peanut butter nugget awaiting inside once bitten into. Pure bliss.
Did you have a specific way of eating them? Like I usually find people have funny ways of eating Twix, Kit Kat and Reese's.
I always use to nibble off the chocolate around the outsides, to only leave the nugget for last. Talk about savoring my peanut butter obsession.
These days, I can't quite kick back with Reese's peanut butter cups daily, so I look to healthier alternatives to nix my cravings. Peanut Butter Protein bites are made in abundance for their portability and for how they silence my need for sugar after every meal.
A mixture of oats, chocolate protein powder, cocoa powder, honey and peanut butter is mixed until smooth. Then a peanut butter nugget filling is whipped together with only a few ingredients; peanut flour, water, and stevia. How simple is that?!
Once the fillings take a quick chill in the fridge, you divide them into even amounts. The nugget mixture you will roll into smaller balls – about the size of a chickpea. The chocolate oat mixture, you roll into the size of a quarter.  Once all divided, take the chocolate oat mixture and wrap around a peanut butter nugget ball and roll gently to seal around on all sides.
Once all rolled out, you have a guilt free, chocolate peanut butter protein bite that will revival the classic Reese's treat.
So go ahead and have another!
Chocolate Peanut Butter Cup Protein Bites
Curb any chocolate peanut butter cup craving with these miniature protein bites that are healthy and come together in a jiffy!
1 hrPrep Time
1 hrTotal Time
Yields 24
Ingredients
Instructions
In a small bowl, combine peanut flour with water and stevia. Mix well until you get a nugget type texture. Cover with plastic wrap and place in refrigerator.
In a microwaveable small bowl, add peanut butter and honey. Microwave for 20 seconds. Stir to combine Then combine with oats and chocolate protein powder until completely mixed. Cover with plastic wrap and place in fridge for 30 minutes.
Once chilled, divide peanut flour mixture into 24 small balls, about the size of a dime. Then divide oat mixture into 24 even discs, about the size of a quarter. Then wrap one oat mixture ball around the peanut flour ball and seal well. Roll around in the palm of your hand to smooth out and seal. Repeat until completed. Store in air tight container in the fridge for up 5 days.
Notes
*This is the protein powder I buy and love! It blends extremely well and contains no artificial ingredients!
7.8.1.2
83
https://withsaltandwit.com/chocolate-peanut-butter-cup/
If you make this recipe, make sure to snap a photo and hashtag it #WITHSALTANDWIT. I'd love to see what you are cooking up in your kitchen!
9