Autumn Butternut Squash Salad with Maple Balsamic Vinaigrette is full of healthy fall flavors and topped with a delicious maple balsamic dressing!
Ever have those weekends that you feel like you ate your way through?
Starting with happy hour full of crisp white wine, balsamic cherry tomato bruschetta and crispy, spicy calamari; then jumping into a creamy, steamy pumpkin spice latte to take the chill off of the Saturday morning air, followed by an indulgent four course dinner sinful enough to make the devil blush. Well needless to say after that calorie bomb of a weekend, my taste buds were shouting for fresh, nutritious vegetables.
And no, I did not stuff my face with boiled chicken and steamed broccoli. Gag. I love to trick myself into having a hearty dinner, yet bursting with nutrition and flavor. That is when I turn to salads. No ordinary salad though. A salad with a bed of bright greens, slight sweetness from fruit, complexity from smoked nuts, creaminess and heartiness from roasted butternut squash and a perfect sweet and sour vinaigrette. A salad with almost too much going on that it I even trick myself into thinking it's wicked.

My love of butternut squash all started back in culinary school a few years ago. We met during my fundamentals class and I knew we would be best friends. This peculiar, orange shaped vegetable seemed to be a sweet potato impostor. I held no judgment though. Once you get through its tough exterior, it offers endless possibilities. Such as, Butternut Squash and Vanilla Risotto, from my girl crush, Giada Laurentiis; Easy Butternut Skillet Shells by Jessica at How Sweet It Is (which anything she makes is freakin' amazing) and lastly, the easiest, yet my favorite, is simply cubing, seasoning and roasting it. Talk about addicting. Another perk, this cute little orange guy has great nutritional stats; coming in at 82 calories per cup and only 22 grams of carbohydrates. While technically it is considered a fruit because it contains seeds, I am not passing judgment, again. How can you with its vibrant hue? Butternut squash delivers an ample dose of antioxidants, which may help with anti-inflammatory effects, and fiber, making it an exceptional heart-healthy choice. It also provides a significant amount potassium, great for bone health, and vitamin B6, which is important for both the nervous and immune systems. (Source: Whole Living). If you have yet to try this nutritional and delicious powerhouse, get on it! The fall is their time to shine.

This salad is robust enough to trick the biscuits and gravy eating man in your house into thinking he is eating a dinner that is anything but healthy. The spinach is earthy and crisp; the tiny cranberry nuggets give a sweet and sour sensation; the smoked almonds add the desirable crunch and depth; the silky, caramelized butternut squash adds brightness and slight sweetness; and then the maple balsamic vinaigrette marries every ingredient wonderfully. I warn you though. THIS dressing. This dressing is so incredibly delicious; it may cause you to want to drink it straight from a shot glass. Not that we have done that…
You know what make this salad even more perfect? Bacon. Yup. The delicious, heart-warming bacon that every American loves to hate. Kinda upset that I didn't trash this salad up a bit by adding fattening bacon. Now, go do it. And top it with bacon just because.
Autumn Butternut Squash Salad with Maple Balsamic Vinaigrette
Autumn Butternut Squash Salad with Maple Balsamic Vinaigrette is full of healthy fall flavors and topped with a delicious maple balsamic dressing!
15 minPrep Time
30 minCook Time
45 minTotal Time
Yields 4
Ingredients
8 cups spinach
1/3 cup dried cranberries
1/3 cup smoked almonds, chopped
1/2 medium butternut squash
Dressing
3 T balsamic Vinegar
3 T maple syrup
1/4 cup olive oil
1 small shallot, finely diced
Salt & Pepper, to taste
Instructions
Preheat oven to 350 degrees.
To prepare butternut squash, peel skin and remove seeds from interior. Dice into 1/2 inch cubes.
Put squash onto pregreased, foil lined baking pan. Spray with olive oil spray and season with salt and pepper. Put into oven and roast for 25-30 minutes, or until soft and slightly charred.
For the Salad, toss spinach, cranberries, and almonds together in serving dish. Once squash is done cooking and cooled, mix into salad gently so not to break apart the squash.
For the Dressing, in a small dish, whisk together all salad ingredients. Season, to taste.
To serve, toss salad with dressing and enjoy!
7.8.1.2
13
https://withsaltandwit.com/autumn-butternut-squash-salad-maple-balsamic-vinaigrette/
Hungry for more healthy salads?
Blueberry & Goat Cheese Chicken Salad with Peanut Dijon Dressing
Pear, Blue Cheese & Cranberry Spinach Salad with Honey Pecans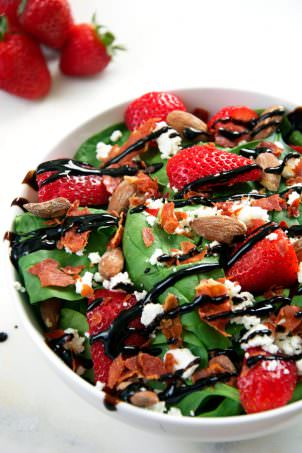 Goat Cheese, Strawberry and Prosciutto Salad with Balsamic Vinaigrette
If you make this recipe, make sure to snap a photo and hashtag it #HOUSEWIFEINTRAININGFILES. I'd love to see what you are cooking up in your kitchen!
11