This colorful and nutrient-dense Kale Power Salad is the perfect make ahead meal! Filled with crunchy vegetables and a peanut dijon dressing!
Did you really think it would be that long before I created another salad for us?
I guess you can say I am over, warm, hearty and stick to your bones dishes (although as I write this, it is 2 degrees and I am craving a big ol bowl of chicken and dumplings! Bi polar much?). And welcoming all vibrant, fresh and healthy salads that I can make me feel just as good on the inside as this salad appears on the outside.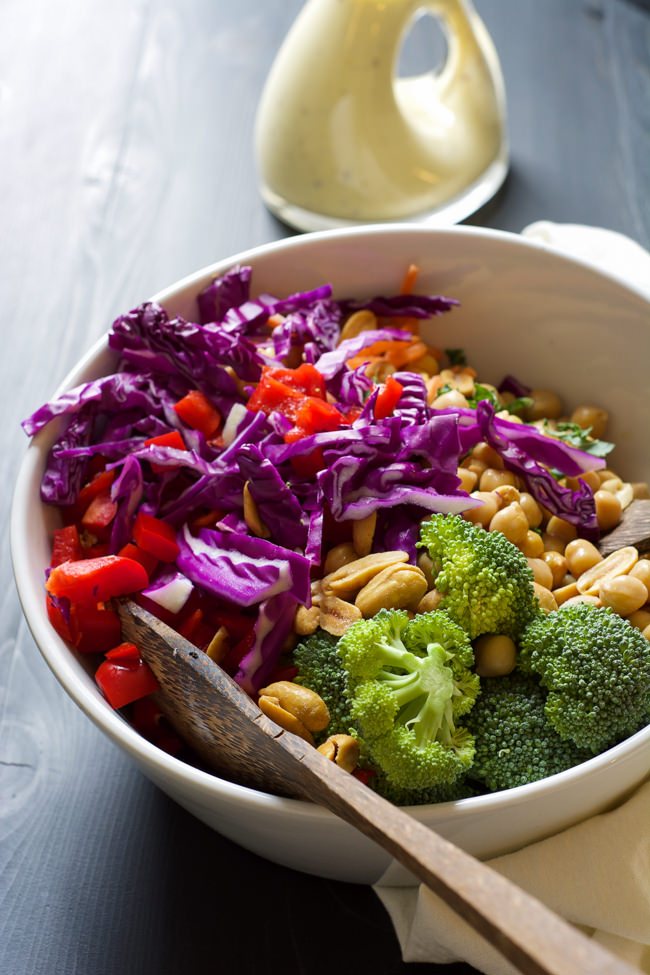 I am so ecstatic about this salad. The colors. The flavors. Everything! Did I mention the colors?
I made this Power Kale Salad out a 'clean out the fridge' effort.  Don't you love when accidental successes happen?
I had copious amounts of kale, red peppers, purple cabbage and carrots lying around. Rather than finding individual recipes to use them for, I threw them all together as I have been craving big, colorful salads lately.  Mostly for nutritious reasons but secondly because when I get hungry between photographing and cleaning, I want something now. And more times than not, it is not what I am working on. Oh the troubles of the food blogging.
Kale is all the rage. While a few years ago, you would have seen me adding spinach to all my salads. And while I still love spinach in salads and dishes, kale is its bigger brother that can hold up to some heat in soups and pasta, and can still maintain its shape in premade salads. Making it ideal to make on a Sunday, prepped and just awaiting for lunch time throughout the week.
This Kale Power Salad is full of nutrients and enough to keep you on track throughout the week. The chickpeas keep you full for hours and all the veggies ensure you are well on your way to filling your 2 1/2 cups of vegetables per day! Plus the chopped peanuts on top add that crunch we all love. Texture city here!
And the dressing? You thought that Peanut Dijon dressing was last week's news? You are sadly mistaken as it is back! I knew you would be just as excited as me. It is slightly sweet, savory and full of peanut flavor.  Just pass me a spoon.
With a simple kale salad this sexy, I will be swimsuit ready in no time. Now if Mother Nature would come around….
meal prep tips:
this kale power salad is the perfect meal prep meal! Whip up a big batch of this salad, store in an air tight container, or individual containers, in the fridge then drizzle with the dressing before serving.

looking to make this a salad a main dish? Add your favorite protein, such as grilled chicken!
If you make this recipe, make sure to snap a photo and hashtag it #WITHSALTANDWIT. I'd love to see what you are cooking up in your kitchen!
341