A simple glaze of soy sauce and balsamic vinegar overtop perfectly caramelized sea scallops. A restaurant quality dinner ready in minutes!

Well here it starts! All with a dish that started the most life changing relationship I have ever encountered. I have been anticipating my very first post for quite some time. It all started with my adventure through culinary school, that grew into a love of entertaining for my friends and family with my food creations. The passion to share my love of cooking is the main driver that has landed me here, as the blogger behind The Housewife in Training Files.
A few years ago, the not so typical love story of a boy and a girl began.  We met at a fake Royals tailgate and the rest is history!  As for this dish….this is THE dish that I woo'd him with.  Of course, I had to find a showstopper. Not a grilled rib-eye (that I learned later is his favorite …) with a luscious Cabernet butter and steaming twice baked sweet potatoes (that he cannot get enough of). And certainly not an exquisite  crème brulee with the perfect caramelized sugar crust (rather, should have been homemade salted caramel gelato…)
So I present to you my showstopper dish, Soy-Balsamic Glazed Scallops, that I ensure you will please the ever so food connoisseur. This dish has sophistication. And not to forgo how incredibly easy it truly is. Trust me on this one!! That's what this imaginary internet friendship is all about, right?
The glaze is bursting with bright flavors from the soy and balsamic vinegar.  Then to drizzle the garlic (beware of getting too close to someone. Ironic I made it for our first date? Surprised he is still around…) infused sauce over the seared scallops, that's when angels sing!
Soy-Balsamic Glazed Sea Scallops
A simple glaze of soy sauce and balsamic vinegar overtop perfectly caramelized sea scallops. A restaurant quality dinner ready in minutes!
10 minPrep Time
12 minCook Time
22 minTotal Time
Yields 2
Ingredients
2 Tbsp balsamic vinegar
1/4 cup soy sauce
2 tsp rice vinegar
1 Tbsp sesame oil
4 garlic cloves, minced
1/2 tsp cornstarch
1/4 tsp red pepper flakes
1 Tbsp coconut oil
3/4 pound fresh sea scallops
1/4 tsp Black pepper
Fresh chopped cilantro, for garnish
Instructions
In a small bowl, combine balsamic vinegar, soy sauce, rice vinegar, sesame oil, garlic, cornstarch, and red pepper flakes. Whisk until smooth. Set aside.
Remove the small side muscle from the scallops, rinse with cold water and thoroughly pat dry.This is extremely important to ensure the scallops are dry to get a good sear on them!
Preheat a medium saute pan over medium-high heat. Add coconut oil. Once pan is hot, add scallops, season with black pepper and cook for 3-4 minutes, until golden brown. Flip with spatula or tongs. Season with black pepper again and cook 3-4 minutes. Add sauce to scallops and let cook another 3 minutes, until sauce has thickened and until scallops are cooked through.
Add scallops to serving plate, drizzle with soy-balsamic glaze and garnish with cilantro! Devour.
7.8.1.2
4
https://withsaltandwit.com/soy-balsamic-glazed-sea-scallops/
Hungry for more seafood?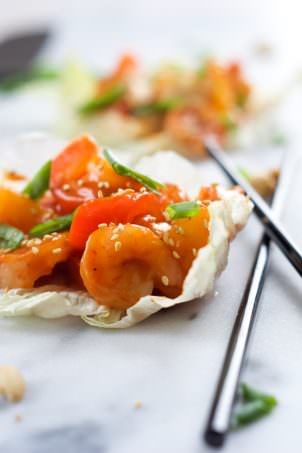 Skinny Sweet and Sour Shrimp Lettuce Wraps
If you make this recipe, make sure to snap a photo and hashtag it #HOUSEWIFEINTRAININGFILES. I'd love to see what you are cooking up in your kitchen!