Massaged Kale Salad with Butternut Squash and Roasted Grapes is fall in a dish! It is healthy, simple and perfect for make-ahead lunches! Caramelized butternut squash and roasted grapes mix with balsamic massaged kale for a paleo and vegan friendly salad!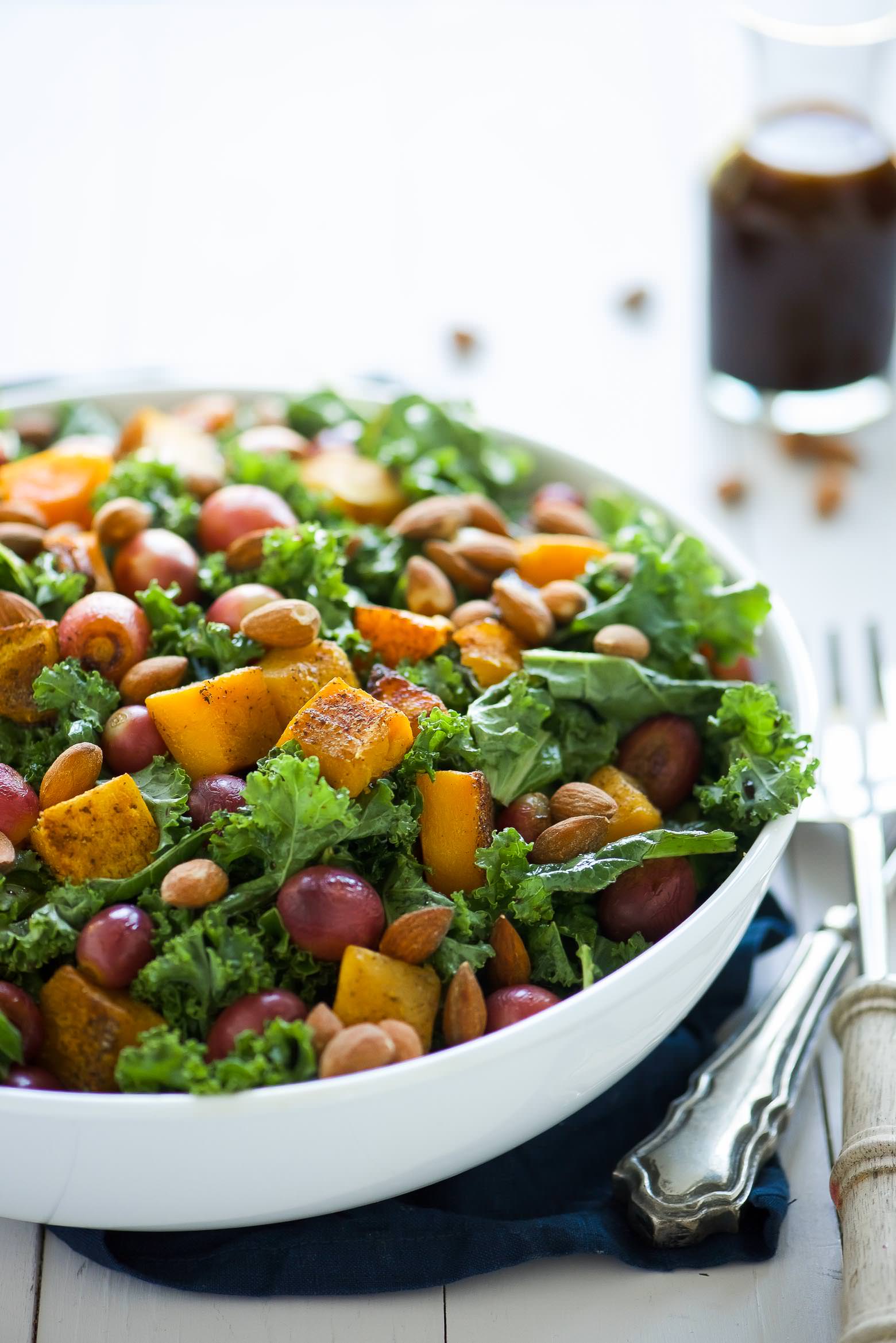 You know that saying "God won't give you more than you can handle?" Well apparently he thinks I am hella strong. I have found myself saying these words over and over through the past few years.

Beyond starting a new career down a path with not much guidance, I have somehow figured out how to be a stay at home Mom, wife, and full-time boss lady. And far too often thoughts of insecurity creep in. Those mom guilt feelings. Those feelings that I am not living up to my wife potentials. Or I should be doing more with the blog. And in all honesty, it's exhausting.
But this year is different. I was fighting an upward battle that I tried so hard to overcome but wasn't aware of the underlying healthy issues and the effects it had on my energy, thoughts and day to day activities. I fully believe you choose how your day is going to go. It's just as easy to be positive as it is negative. Just as easy to thank God for your blessings as it is to be hard on yourself for every mishap. It all starts with you. You have the power to start each day thankful and full of positivity. I get where some days you just don't have the willpower to or every mishap keeps knocking you down. Believe me, I get it. I once walked in those shoes. For far too long.
So when I started this journey of better health, I thought there is no way this is going to work. Will I ever be normal? Newsflash. There is no normal. We are all just unique in our own ways. It was hard to give up all those foods. I missed out on delicious outings with friends because it was nearly impossible to eat out. For a short time, I let the hardships of my current situation rule my life. Slowly and with positive words from my husband, my days did start to turn around.
If battling my food allergies wasn't enough, I have had an underlining issue with my hormones. In all reality, I have this diagnose to thank for my style of eating. Most doctors just threw medicine my way and said this would fix it. Well, fixing it wasn't good enough. What about healing?
I did a lot of Googling. Oh man. The things you can find when you Google. Some pieces of advice I took with a grain of salt. If not I would be one hippie type of mom with a million herbs and supplements. But one thing I saw over and over was whole food with endless health benefits help to restart your system. No surprise there. So I slowly cut out the 'healthy/diet' junk food and moved to whole nutrition. More home cooked meals, less microwaved meals or plastic-wrapped snack bars. Now, a few years and a baby later, I am revisiting my hormone problems. We hoped they would restart themselves post baby, and in some ways. They have but I am still having a few issues.
It is unreal how out-of-whack, hormones can cause day to day issues; such as fatigue, depression, anxiety, headaches, brain fog, issues with the monthly visitor (sorry if TMI), all I have had in some form over the past few years. Hence the upward battle previously mentioned. But while focusing on food, my doctor and I are also focusing on healing my PCOS. Finally, a doctor that is focusing on healing! Not patching.
I can say with hopeful spirits, that I can finally see a light at the end of the tunnel. It the joy that it resonates in me is enough to keep my glass half full!
So now that my glass is half full, so is my lunch bowl as I nosh away on this simple raw kale salad recipe!  I am all about meal prepping lately and most of the time, it is a huge salad filled with seasonal veggies. This summer I shared my fruit and bacon filled simple kale salad with lemon dressing, and now I am back with a fall-inspired version. And can I say that this may be my ALL TIME favorite one yet? Don't be surprised though if I show up next week with a new favorite. I wouldn't be surprised either. I move quickly.
Do you know how to make a massaged kale salad? Yes, it may sound odd, but give your kale a nice relaxing rub down. You will be glad you did as it softens up the kale and makes it more edible. The first few times I made a kale salad, I skipped this step and I was cursing myself. Bitter, tough and just plain gross. But a quick massage with the dressing saves you of those troubles! While you prepare the kale, butternut squash heads into the oven. It will come out beautifully caramelized as the squash releases its natural sugars. And not to mention, we also roast the grapes! They transform into a different type of sweet fruit once roasted. Their natural sugars sort of deepen and become highly addictive! A couple of falls ago, I made this butternut squash and roasted grapes quinoa salad and you all flipped over it! It continues to be a top recipe every fall. And for good reason! So I lightened up the dish by subbing greens for the quinoa and forgoing the goat cheese. But by all means, this salad would rock with goat cheese!
This salad is meal prep friendly so perfect for those busy lunches. Just divide the salad evenly between 4 containers and you are on your way to having the best massaged kale salad recipe, ever!
meal prep tips:
massaged kale salads are great to make ahead for lunch, dinners or side dishes as kale can withstand the being prepared ahead of time! Toss the kale with the remaining ingredients then toss shortly before eating. you can also dress this salad then serve shortly after, such as for a dinner party. It can withstand the dressing for at least 39 minutes!

if you don't wish to eat this salad chilled, store the butternut squash and grapes in a sealed container. Then the kale and almonds in another container, then combine with dressing before serving.
Massaged Kale Salad with Butternut Squash and Roasted Grapes
Massaged Kale Salad with Butternut Squash and Roasted Grapes is fall in a dish! It is healthy, simple and perfect for make-ahead lunches! Caramelized butternut squash and roasted grapes mix with balsamic massaged kale for a paleo and vegan friendly salad!
10 minPrep Time
45 minCook Time
55 minTotal Time
Yields 6
Ingredients
Salad:

6 cups chopped kale
1 tablespoon olive oil
1/2 teaspoon salt
1/2 teaspoon pepper
4 cups chopped butternut squash
2 cups red grapes
1/2 cup roasted almonds
1/4 cup Balsamic Vinaigrette (Recipe Below):

Balsamic Vinegar

3 tablespoons Balsamic Vinegar
3 tablespoons olive oil
1/2 teaspoon dijon mustard
1/4 teaspoon salt
1/4 teaspoon pepper
1/4 teaspoon garlic powder
Instructions
Preheat oven to 400 degrees F. Line a baking sheet with foil.
Toss squash with olive oil, salt, and pepper. Spread out in an even layer on a baking sheet. Place in preheated oven and roast for 35-45 minutes, depending on squash. You are looking for the edges to start to brown but not burn.
In the last 15 minutes of cooking. Add the grapes. Stir the grapes and butternut squash. Remove from heat once caramelized and let cool.
Meanwhile, place kale in a large bowl. Gently massage with 2 tablespoons of the dressing. Reserve the remaining dressing for serving.
Once the butternut squash and grapes are slightly cool, toss with kale, almonds, and remaining dressing, if desired.
Notes
This makes a great side salad, or make it a main salad by adding your favorite protein!
7.8.1.2
377
https://withsaltandwit.com/massaged-kale-salad-butternut-squash-roasted-grapes/

Looking for more fall inspired dishes?
Skinny Sun Dried Tomato Meatballs with Spaghetti Squash
Creamy Gruyere Butternut Squash, Kale and Sausage Pasta
Caramelized Butternut Squash Quinoa Salad with Goat Cheese and Roasted Grapes
If you make this recipe, make sure to snap a photo and hashtag it 
#WITHSALTANDWIT

. I'd love to see what you are cooking up in your kitchen!

15