This 5 Ingredient Caprese Quinoa Bake Recipe is a dinner time savor! It requires no prior cooking and filled with gooey cheese, heart-healthy quinoa, turkey meatballs and fresh basil. It freezes wonderfully so make two!
I can hardly contain myself!!! Yes, that calls for lots of exclamation points bright and early on this Thursday morning. I am up north to Minneapolis for a photography workshop by the one and only, Pinch of Yum! I have so much respect for them as they are driven, down to earth and not to mention inspiring.
Their recipes are flat out mouthwatering and not to mention, full of comfort. And many that I recreate in my own kitchen as their taste is similar to mine.
The past few months have been all about pushing my limits to see what I am truly capable of. In reality, the past couple of years has been about that as well. When I started this blog, I was working full-time and planning a wedding. Then once I quit my full-time job to focus on the blog, we found out we were pregnant then sold our condo and bought a new house. Holy stress. And now, nearly three years later, the blog has my undivided attention. And I couldn't be more inspired for where I want to take it.
I am spending time focusing on my photography, hence this workshop! I am hoping to leave with a new drive for photography and a better understanding of lighting, which always seems to be an upward battle. Being able to read the light makes all the difference between a so-so photo and a stunning photo. I prefer the latter. I wish for that live-in-look of a photo, such as you just caught my family in the midst of a meal. Rather than a staged set up. I have high hopes for this workshop. Wish me luck as I venture into a new world of photography!
Before I left for a couple of days, okay like 48 hours, I had to ensure sure our fridge was full of grab and go options so the hubs and Aiden won't be going hungry. Or through the drive thru. There are plenty of peanut butter zucchini bread breakfast bars (recipe coming soon!), almond butter energy bites and baked oatmeal to keep them full all morning long. But what is missing? Oh ya, dinner.
Lately, dinner has to be speedy, with few ingredients and nutritious! That is where this 5 ingredient Caprese quinoa bake recipe comes in! There is something about the world casserole that makes me think of the 80's, like a ham and cheese casserole of some sort. So in reality, this is a Caprese quinoa casserole loaded with turkey meatballs! But for fancy reasons, I went with bake! Did you ever think so much went into naming a recipe? Ya, I didn't either until I had to start throwing together all the ingredients into some sort of name you all would understand at one look. It's not easy.
For my simple version of this turkey quinoa Caprese casserole or bake, whichever you prefer to call it, I start with uncooked quinoa. I rinse it and then soak it in water for 15 minutes or so. While this is not mandatory, it does help cook the quinoa faster once it is in the oven. I found that when I did not soak it, the bottom quinoa was cooked while the top was a tad undercooked. If you choose not to soak the quinoa, you may want to give it a good stir then you can add more cheesy on top for that beautiful crust!
OI have teamed up with PotandPans.com for National Cooking Day, this Sunday, September 25th! It was established to celebrate and commemorate the thrill of cooking at home. Something near and dear to my heart! In a time of fast food and hand-held meals, this day is bringing back the joys of cooking for one another, the time spent to exchange ideas, traditions and express our love for one another. I love cooking for family and friends as it is one of the easiest way for me to express my love and gratitude for them! Will you be joining in on this celebration?
Items I used to make this recipe:
Make sure to pop on over to PotsandPans.com for Caprese Quinoa Bake Recipe with Meatballs that features a homemade meatball recipe!
5 Ingredient Caprese Quinoa Bake Recipe with Meatballs
This 5 Ingredient Caprese Quinoa Bake Recipe is a dinner time savor! It requires no prior cooking and filled with gooey cheese, heart-healthy quinoa, turkey meatballs and fresh basil. It freezes wonderfully so make two!
20 minPrep Time
40 minCook Time
1 hrTotal Time
Yields 8
Ingredients
2 cups uncooked quinoa
4 cups tomato basil pasta sauce
1 pound gluten free turkey meatballs
1 cup shredded mozzarella
6 ounces fresh mozzarella, sliced thinly
Optional: Thinly sliced basil
Instructions
Place the quinoa in a large bowl. Add water to cover. Let soak for 15 minutes. (This is optional, but it helps the quinoa to cook faster.)
Preheat oven to 375 degrees F. Grease a 3.5-quart oval baking dish or a 9x13 baking dish with nonstick cooking spray.
Rinse the quinoa with water. Then add to prepared baking dish. Add the pasta sauce. Season with salt and pepper, if desired. Stir to fully incorporate.
Sprinkle the mozzarella evenly over quinoa. Then add the meatballs, evenly over cheese.
Lay the sliced mozzarella over the meatballs, trying to cover the dish completely.
Place the dish in the oven and cook for 35-40 minutes, or until quinoa is cooked through and the cheese is melted and bubbly.
Remove from oven and sprinkle with the thinly sliced basil, if desired.
7.8.1.2
374
https://withsaltandwit.com/5-ingredient-caprese-quinoa-bake-recipe/
Need more easy dinner recipe inspiration?
Skinny Honey Teriyaki Chicken Rice Bowls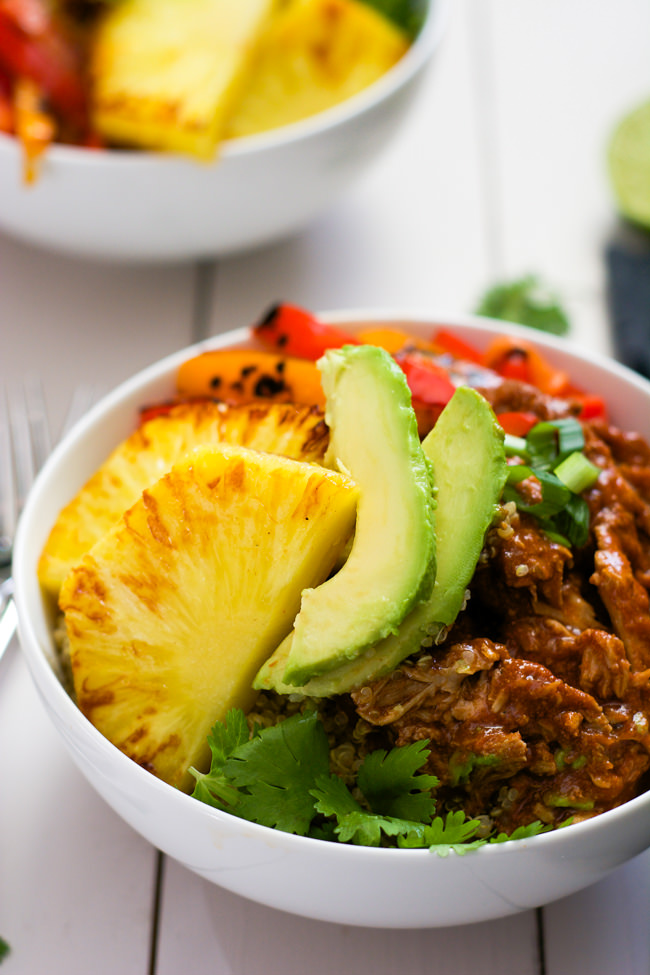 Slow Cooker Hawaiian Pork Burrito Bowls
One Pot Cheesy Taco Zucchini Noodle Skillet
If you make this recipe, make sure to snap a photo and hashtag it #WITHSALTANDWIT. I'd love to see what you are cooking up in your kitchen!
18