Take a trip to the tropics with this tropical green smoothie filled with hydrating cucumber, mango and fresh pineapple to help energize your day!
Before summer is a past memory, I am on a mission to get my smoothie on as much as possible.
When the sun is blazing, a lunch that is cool and refreshing satisfies my taste buds and energizes me for an afternoon filled with god knows what…probably attempting to photograph your next recipe, cleaning the house, and a quick break on Pinterest. You know, the life of someone with an attention span of a three year old.
My last smoothie deemed to be a popular one not only in my house, but with you all as well! This time around, I am feeling more veggies, more fruits and nutrients! While on our honeymoon, we frequented the health bar which consisted of you guessed it, healthier fare that was ready quickly and refreshed you for a day filled with sand and sun. One item that I kept going back to was their Tropical Smoothie – filled with pineapple and mango!
How could I say no to that?!
I knew I had to recreate when I got home. Frozen mango is added to help create a thick and creamy shake. I chose to use fresh pineapple, but frozen pineapple would contribute to an even thicker smoothie! Canned pineapple would work just as well if fresh or frozen aren't available.   The pineapple brightens and provides a ton of sweetness! That, with the mango is what takes me back to Mexico!
The fruit is very nutritious but lately I have been trying to add even more nutrients in the form of veggies. As everyone knows, adding spinach and greens to a smoothie is a sneaky and sure fire way to get in a few servings of veggies! But let's change it up a bit. Cucumbers are considered a super food for multiple reasons; they are high in B vitamins so they provide a quick pick me up! They are also 95% water so they keep your body hydrated all while eliminating toxins. So adding cucumbers into my routine is the perfect addition to energize my day!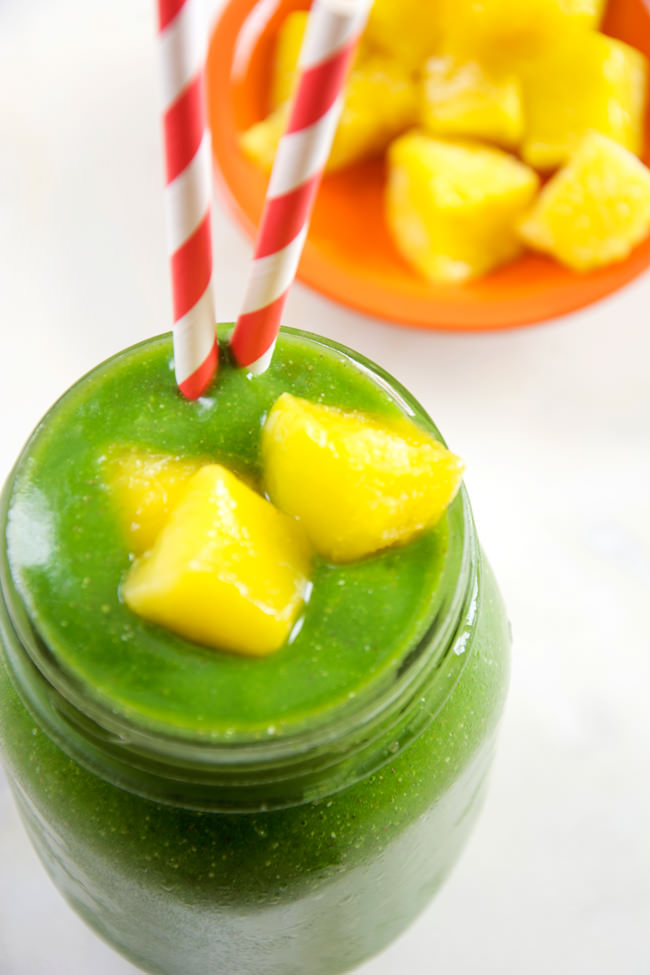 I have one more health tip that I have been sneaking into smoothies. If you follow along on Instagram, then you may have seen my spinach cubes. They are so simple and a great way to use up spinach that may go bad soon! Simply add spinach into a high power blender, such as a BlendTec, with a touch of water then puree until smooth. Add to an ice cube tray, freeze and then throw into smoothies for a double boost of nutrients!
With the last bit of summer remaining, I am going to sit back and sip on the tropics with this smoothie!
Cucumber Tropical Green Smoothie
Take a trip to the tropics with this tropical green smoothie filled with hydrating cucumber, mango and fresh pineapple to help energize your day!
5 minPrep Time
5 minTotal Time
Yields 1
Ingredients
1 cup pineapple
1/2 cup mango
1/2 cucumber (skin on)
1 scoop vanilla protein powder (optional)
3/4 cup almond milk (or milk of choice)
3 spinach cubes, or 1 handful spinach and 1/2 cup ice
Optional: 1 tsp honey
Instructions
In a high power blender, add all ingredients and puree until smooth.
Drink immediately.
7.8.1.2
103
https://withsaltandwit.com/cucumber-tropical-green-smoothie/
Craving more healthy drinks?
Coconut, Vanilla and Almond Butter Smoothie
Peanut Butter Oatmeal Apple Smoothie
If you make this recipe, make sure to snap a photo and hashtag it #HOUSEWIFEINTRAININGFILES. I'd love to see what you are cooking up in your kitchen!
1