A dessert inspired healthy baked oatmeal makes one sweet breakfast! Creme Brulee Baked Oatmeal is perfect for breakfast, brunch get together's and will make any morning feel special!
Originally posted March 2014. Photos and Post Updated November 2016. 
I love sugar.
It is no secret that I adore desserts. I have a sweet tooth the size of Texas (and luckily don't have a butt to match…). The typical piece of chocolate, or a soft chewy chocolate chip cookie or delicate vanilla cake, I can pass on without blinking an eye, but mostly ice cream wins my heart. Hands down. I always ask my husband around the holidays to find a way to overflow my stocking with ice cream rather than a dark chocolate Santa Claus. That has disaster written all over it. I can still dream though.
Do you have a special dessert that is close to your heart? A favorite that you lose all control with?
I have a few that immediately take me back to the age of when pigtails were acceptable and my mother still dressed me. It was the one that my Mother immediately got all giddy over as soon as she spotted it on the dessert menu. Creme Brulee. The intense vanilla bean speckled custard all cuddled up underneath the blanket of caramelized sugar. Isn't it known that the crunchy, sweet caramelized sugar is the best part? It is a dessert that will always make me think of her and the 'special dinners' that meant we could order dessert. Those were always my favorite family nights.
But in my mind, creme brulee is the 'classy dessert'; sweet, simple yet sophisticated. All words that remind me of my mother.
Every winter, my parents party vacation in warmer weather, such as Arizona and Florida, with a good friends. Not jealous or anything. It's fine, I will just freeze my lil bum off here in KC.
During that time, it is always difficult, as I am use to talking and seeing my Mom quite often. We have a close friendship. I am lucky to say she is one of my best friends. I only hope my future daughter and I will have the same relationship! So I thought to make a breakfast that comforted me and reminded me of her.
Creme Brulee + Oatmeal.
Yes, you read that right. But this treat will have your waistline thanking you.
Oatmeal mixed with milk, greek yogurt, cinnamon, touch of sweetener, bake off beautifully to make a custard style oatmeal. In the last few minutes of baking, you flip on the broiler, sprinkle coconut sugar (or brown sugar) over the tope, and let the caramelization begin. If this treat couldn't get any sweeter, drizzle with a touch of maple syrup, extra pour of milk and fresh, juicy berries.
Creamy, healthy baked oatmeal nestled underneath a blanket of caramelized sugar is the ideal way to treat yourself during the week or fancy up a brunch for some special house guest!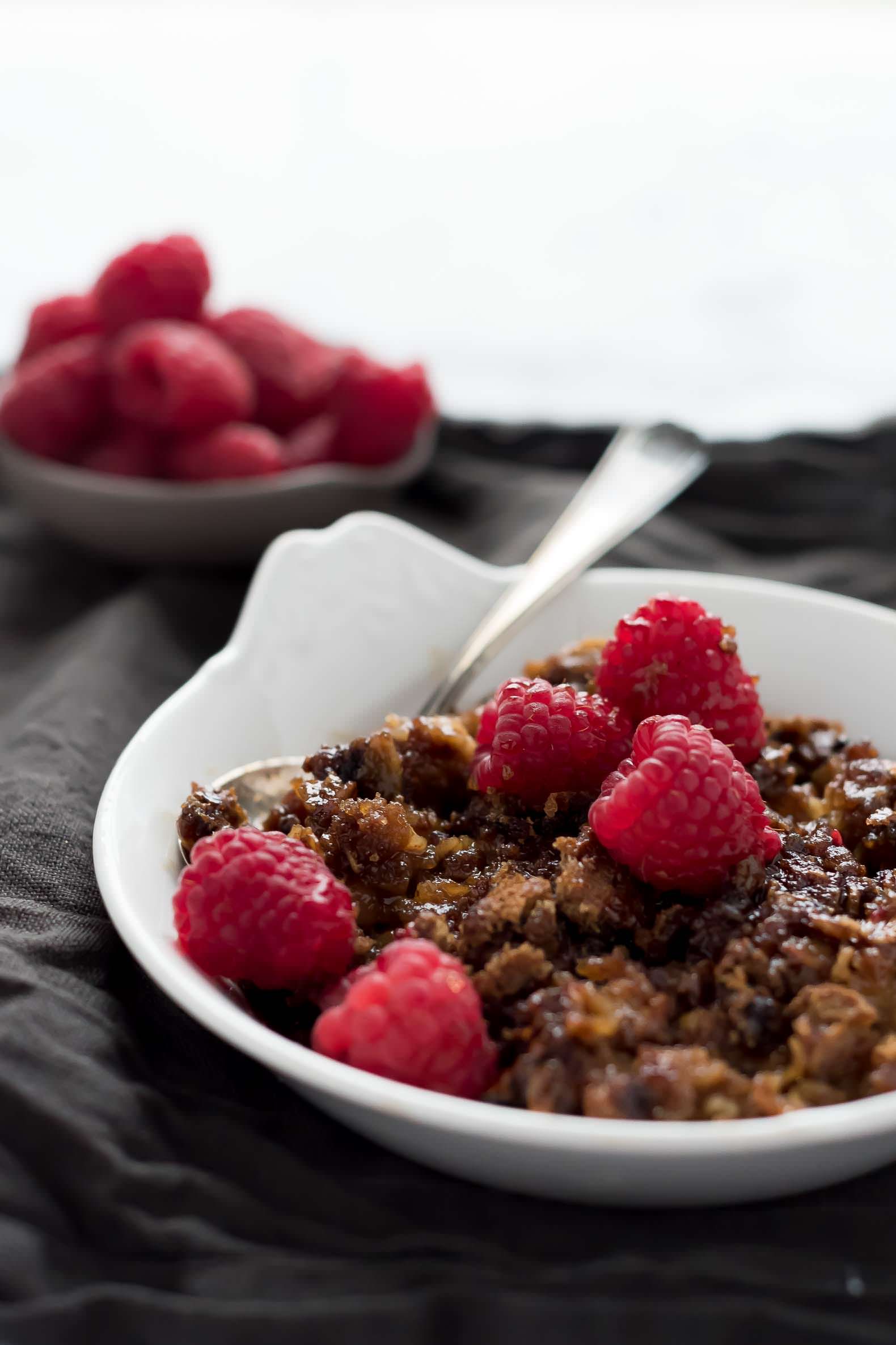 meal prep tips:
healthy baked oatmeal makes weekday breakfasts so much easier! Simply bake, then store in a sealed container in the fridge. Then reheat in the microwave before eating!

to make breakfast on the go, store in individual containers, reheat then go!
Creme Brulee Baked Oatmeal
A sweet breakfast and dessert favorite get together for a breakfast that will make any morning feel special!
10 minPrep Time
35 minCook Time
45 minTotal Time
Yields 9
Ingredients
1/2 cup plain nonfat greek yogurt (or vanilla)*
2 cups unsweetened vanilla almond milk, (or milk of choice)*
1/2 cup almond butter*
1 tablespoon vanilla extract
2 1/4 cups old fashioned oats
1/4 cup coconut sugar
1/2 teaspoon sea salt
1 teaspoon baking powder
1 1/2 teaspoon ground cinnamon
Topping: 1/3 cup coconut sugar, or brown sugar
For Serving: Fresh berries, maple syrup, milk
Instructions
Preheat oven to 350 degrees F. Grease an 8x8 baking dish. Set aside.
In a large mixing bowl, combine the yogurt*, almond milk*, almond butter* and vanilla extract. Stir to combine.
Add the oats, coconut sugar, salt, baking powder and cinnamon in a large bowl. Stir to combine.
Add to greased baking dish. Bake for 20 - 25 minutes or until baked all the way through. Remove dish from oven, and turn on broiler. Sprinkle with coconut sugar, place back in oven for 3 minutes, or until sugar is caramelized.
Cut into 9 squares, and serve with strawberries and maple syrup, if desired.
Notes
*To make vegan, use dairy free yogurt! *You can leave the almond butter and use non-nut milk to make this nut free. Original Recipe Included: (Updated to remove egg whites) 2 1/4 Cups Old Fashioned Oats 1 scoop protein powder 3 tablespoon baking stevia 1/4 teaspoon salt 1 teaspoon baking powder 1 1/2 cinnamon 4 egg whites 1 tablespoon vanilla 1/2 cup plain greek yogurt 3 cups almond milk 1/3 cup coconut sugar
7.8.1.2
37
https://withsaltandwit.com/creme-brulee-baked-oatmeal/
Hungry for more make ahead breakfast options?
Chia Seed Peanut Butter Banana Breakfast Cookies
Blueberry Lemon Cheesecake Overnight Oats
Freezer Friendly Fluffy Vanilla Greek Yogurt Pancakes
If you make this recipe, make sure to snap a photo and hashtag it 
#WITHSALTANDWIT

. I'd love to see what you are cooking up in your kitchen!

21