Chipotle Pork Carnita Burrito Bowls with Cumin Lime Rice are a healthy, homemade tex mex favorite! Filled with juicy, spiced pork, a homemade black bean salsa and lightened up cumin lime cauliflower rice!
So what is wrong with me?
My sister in law introduced to me this new-to-me boot camp style class. Let's just say you booty is handed to you. I guess I would rather have it handed to me rather than giggling. Amirght?
I have always been into those workouts that get down and dirty. I enjoy the heart pumping sessions where you can't quite walk out of the gym without saying ouch. What is wrong with me?
I am an all or nothing type person and for some reason, if I don't find myself breaking a sweat, I don't see it quite as beneficial. Sorry pilates and yoga. You just don't quite do it for me. I have tried but I find myself looking around the room and usually at the clock during the 20th leg lift as my booty is on fire.
These all or nothing type workouts are usually two fold – they lift my spirits and usually lift my appetite. Like I am raging after for a snack! While protein bars are good, I am needing flavor loaded, fill me up style snack.
And with Cinco de Mayo around the corner, I have fell in love with another bowl! And you will too. I am tellin ya, the hubs and I couldn't stop shoveling this spiced pork and fresh salsa bowl into our mouth. The best thing about 'bowl' dinners is with one subtle swoop, you get every component. The cumin lime cauliflower rice, the tender spiced pork and the bright and addicting salsa!
Let's start with the base of bowl dinners. It's usually a grain; quinoa, farro, rice or whichever suits your fancy. Today I chose cauliflower rice because let's be honest, I will be getting down a big ol' bowl of chips as well. Guilty. Recently grocery stores have started carrying already riced cauliflower. Hello, life saver. Save yourself some time and snag these if you can find them. Target carries it and so does Trader Joe's…the 304,858 reason both of those stores steal my money. Butttttt, if you decide to rice your own cauliflower, I explain it here! Super simple.
Next, the pork. OH, heavens. This pork is super juicy! Don't freak from the ingredient list. They are more than likely pantry items. The pork is rubbed down with the spices then baked to juicy perfection. Make sure to let her rest after it bakes; the juices redistribute and prevent the meat from getting dry. Pay-lease don't dive in before this. I know it's tempting but you will be patting yourself on the back once you taste its deliciousness.
Lastly, the toppings! A fresh tomatillo and black bean salsa is mixed up. I suggest doubling the salsa because those said chips will be finding there way into this bowl. It's terrific made ahead of time so feel free to whip it up and snack on this all week long.
Now the only question left is, where is my margarita?
Tools I used to make this recipe:
Chipotle Pork Carnita Burrito Bowls with Cumin Lime Rice
Chipotle Pork Carnita Burrito Bowls with Cumin Lime Rice are a healthy, homemade tex mex favorite! Filled with juicy, spiced pork, a homemade black bean salsa and lightened up cumin lime cauliflower rice!
30 minPrep Time
30 minCook Time
1 hrTotal Time
Yields 4
Ingredients
Pork:
1 pound pork tenderloin, trimmed of any fat
3/4 teaspoon chili powder
3/4 teaspoon cumin
1/2 teaspoon garlic powder
1/2 teaspoon oregano
1/2 teaspoon salt
1/4 teaspoon pepper
Salsa:
1 can (15 ounce) black beans, drained & rinsed
1 cup finely chopped cherry tomatoes
1/2 cup finely chopped tomatillos
2 tablespoons finely chopped fresh cilantro
1 tablespoons olive oil
1/2 lime, juiced
1 tablespoon minced jalapeno pepper
1 teaspoon minced garlic
Salt
Pepper
Cauliflower Rice:
6 cups riced cauliflower, such as from Dole
1/2 Lime, juiced
1/4 cup chopped cilantro
1/4 teaspoon cumin
1/2 teaspoon salt
1/4 teaspoon pepper
Garnish: Cilantro
Instructions
Pork: In a small bowl, combine the pork rub ingredients; chili powder, cumin, garlic powder, oregano, salt and pepper.
Rub the pork with a bit of olive oil and sprinkle the pork with the rub. Set aside for 15 to 30 minutes at room temperature before cooking. Or season then let marinate in the refrigerator, covered, overnight, if desired.
When ready to cook, preheat oven to 400 degrees F.
Place pork into the preheated oven and cook until the internal temperature of the pork reaches 140 degrees, about 20 minutes depending on size. (This is a great time to use an oven safe thermometer.)
Remove the pork from the oven and let sit until it reaches 145 degrees, about 7 minutes. Then dice tenderloin into bite size pieces.
Salsa: While the pork cooks, in a medium mixing bowl, combine the salsa ingredients. Set aside until pork is done.
Rice: In a large skillet, spray with non stick cooking spray. Add the riced cauliflower and cook for 4 to 5 minutes, stirring occasionally or until rice is tender crisp. Add the juice of the lime, cumin, salt and pepper. Mix well. Set aside until ready to serve.
To serve, add rice to a bowl, top with diced pork, salsa and cilantro.
Notes
7.8.1.2
327
https://withsaltandwit.com/chipotle-pork-carnita-burrito-bowls-with-cumin-lime-rice/
Hungry for more easy, full flavored dinners?
Skinny Honey Teriyaki Chicken Rice Bowls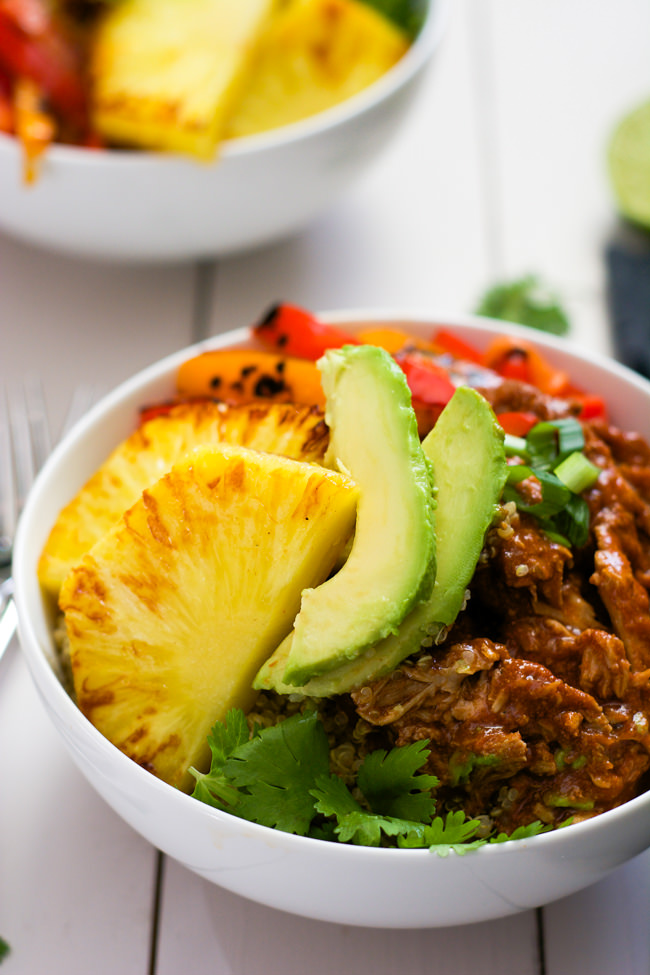 Slow Cooker Hawaiian Pork Burrito Bowls
Slow Cooker Honey Chipolte Chicken Tacos
If you make this recipe, make sure to snap a photo and hashtag it #WITHSALTANDWIT. I'd love to see what you are cooking up in your kitchen!
7