A naturally sweetened White Chocolate & Cranberry Quinoa Granola with tart cranberries and white chocolate morsels are the perfect snack or breakfast! 
So I am bit spacy today.
But really…Just imagine a browser with 2,469 tabs open. That is my mind. All. The.Time.
Anyone else like that? Pah-lease don't tell me I am the only one that is trying to check facebook, update a blog post, sneak some real work in there, look at my bank account and try not to freak out, plus 17 other things at the same time.  Multitasking much?
So this might be short and sweet!
Speaking of sweet. THIS Granola.  You all remember my first granola? Well that batch lasted a whole .0287 seconds in our house. We are snack monsters.
Treats don't stand a chance.
Since I can never remake a recipe twice without adding a new flare to it…call it a culinary intrigued curse, but whatev.  My new flare on granola mighhhhhtttt be my new favorite.
What is it about granola that make is so perfect year around? Granola to snack on, add on to yogurt, throw in waffles or just shovel it straight into your mouth. Anyway you do it, its sure to please.
The flavor of cranberries and white chocolate are one my all.time.faves. So delish. Seriously. Sweet. Tangy. Crunchy. Wholeness.
What else do you need in a snack? Except maybe another batch…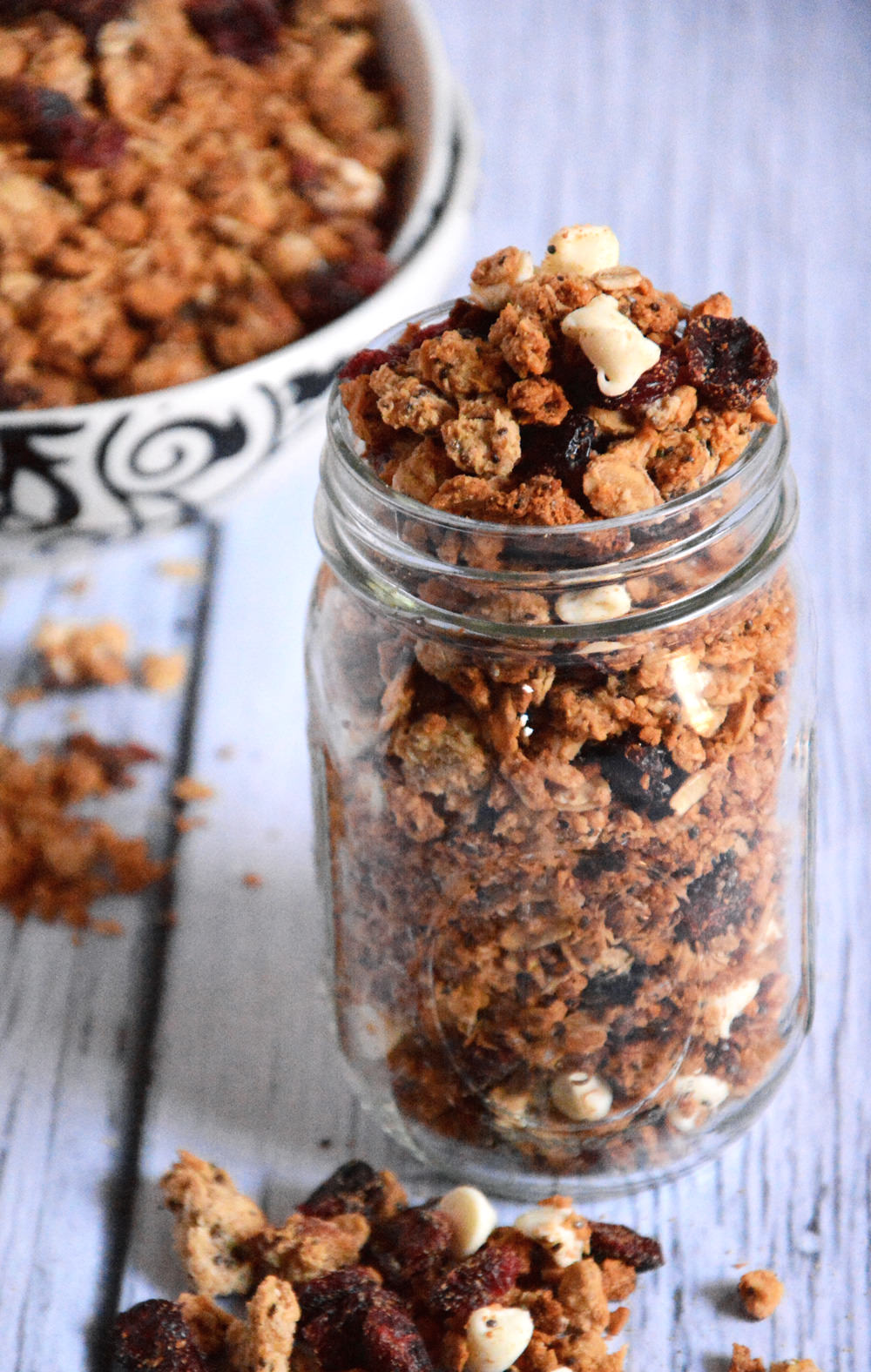 White Chocolate & Cranberry Quinoa Granola
A naturally sweetened granola with tart cranberries and white chocolate morsels are the perfect snack or breakfast!
10 minPrep Time
40 minCook Time
50 minTotal Time
Ingredients
2 cups oats
1 cup quinoa, cooked and cooled
1/4 cup golden ground flaxseed
1/4 cup chia seeds
1/3 cup sliced almonds
1 cup shredded unsweetened coconut
1/2 tsp salt
2/3 cup maple syrup
2/3 cup coconut butter
1 T vanilla extract
1 cup dried cranberries
1/2 cup white chocolate chips
Instructions
Preheat oven to 325 degrees. Line a large baking sheet with parchment paper.
In a large bowl, combine oats, quinoa, flaxseed, chia seeds, almonds, coconut and salt. Stir well to combine.
In a small sauce pan, melt coconut butter. Add maple and vanilla. Stir well to combine.
Pour maple mixture evenly over oats mixture. Toss well to ensure all is coated well.
Spread baking sheet in one layer. Spread around to ensure it is all evenly spread out. Bake for 10 minutes, toss and then bake for 10 minutes more. Toss again, then bake for 10 more minutes. Toss again, and repeat until it is golden brown. When tossing granola, try not to break apart the clumps that have formed. Will take about 30-40 minutes to reach golden brown.
Remove from oven and let cool for 5 minutes. Once it is cool enough to handle, clump together the granola. Let cool completely then add cranberries and white chocolate chips. Store in airtight container in pantry.
Notes
*Adapted from My Maple Coconut Butter Quinoa Granola

*This granola does not have a strong coconut flavor despite the coconut butter. Feel free to use almond, peanut or cashew butter. Cashew Butter will have the most neutral flavor.*
7.8.1.2
56
https://withsaltandwit.com/white-chocolate-cranberry-quinoa-granola/
 Craving more granola?
{Lightened Up} Dark Chocolate Chunk Cherry Granola with Pecans
Vanilla Graham No Bake Granola Bars
Maple Coconut Butter Quinoa Granola
3