This is a sponsored post on behalf of Kitchen PLAY for Frigidaire and Lowe's. As always, all opinions expressed are 100% mine.
A quick soy and honey based sauce is tossed over Teriyaki Zucchini Noodles for a dinner that is full of sautéed veggies and Asian Meatballs! A lighter yet flavorful dish that comes together quickly!
Upon completing our kitchen renovation, I could not be more on cloud nine. Despite our renovation being a bit more of a cosmetic face-lift, it was a big project for us as this is the first house we purchased together. Refinishing the kitchen cabinets and floors added our own special touch to the house. Each moment we experience in it feels more like home.
An upgraded kitchen also means upgraded meals, as with a new attitude comes a renewed love of cooking. In our old condo, I was fed up. I was tired of the cramped spaces, having to crawl into cabinets to get that one pot, having every cup fall out at me when all I wanted was this one cup. So our meals ended up being blah and lifeless because that was simpler and less stressful. But as we have settled into our new house, the idea of a dream kitchen inspired our meals to become more exciting. Enter Spiralized Teriyaki Zucchini Noodles with Asian Meatballs. Sweet, spicy and a healthy meal that leaves you forgetting the takeout number altogether. And not to mention how quickly it all comes together!
I love simple recipes, if you haven't noticed yet. After a busy work day of meal planning and recipe testing, I am like any other busy woman, and cherish those meals that are quick to get on the table yet are satisfying and healthy. Nothing wrong with that! That means more family time after all. A win-win for everyone.
Asian infused meatballs are baked up in the oven, which can be done ahead of time (and even frozen if meal prepping is your thing). Meanwhile, the zucchini is made into long noodles using a spiralizer or mandolin. I am all sorts of in love with my spiralizer. Definitely not a kitchen gadget that has collected dust! A delicious, homemade teriyaki sauce is whisked together and thickened in a sauté pan along with the zucchini noodles. They take just a few minutes to soften a bit, then are removed from the heat and ready to be served! Top with the meatballs and a sprinkle of sesame seeds and you have a gourmet dish!
This meal is simple enough, yet elegant enough to serve for a crowd. A bigger kitchen and new appliances can make entertaining a dream! The new does just that with reliable, heavy duty and professional grade appliances that fit your current kitchen, so there's no need for a full remodel. With a few simple swap outs, your kitchen will go from 1995 to 2015 over the weekend! To create my ultimate dream kitchen, I started off by creating a vision board on Pinterest, and I saw a theme… white kitchens or espresso cabinets with all modern finishes! While our kitchen now has espresso cabinets with grey floors, I still have a love of white kitchens with subway tiles. Someday! Because I was able to pick out all the Frigidaire Professional appliances a, I was able to create a dream kitchen in no time! I was able to make sure each appliance has the features I am looking for and that they all look spectacular together – such as this Frigidaire Professional French Door Refrigerator with Dual Ice Makers. What can I say, I really like my drinks chilled! And what cook can say they really enjoy washing dishes? That makes this Frigidaire Professional Energy Star built-in Dishwasher a must. It has Orbit Clean Technology, meaning your dishes get 4 times more water coverage than typical dishwashers. And with a Sensor Cooking Over–The–Range Convection Oven or Microwave that provides some serious power to heat everything from hot chocolate to a casserole, I am envisioning meals prepared with ease on the horizon! And for those all day meal prepping days, the Frigidaire Professional 2-in1 PowePlus® Burner and Griddle, self-cleaning gas range seems like a no brainer. With its PowerPlus® preheat, the oven is ready in a few minutes, cutting down on waiting time. Something that is very precious in the kitchen!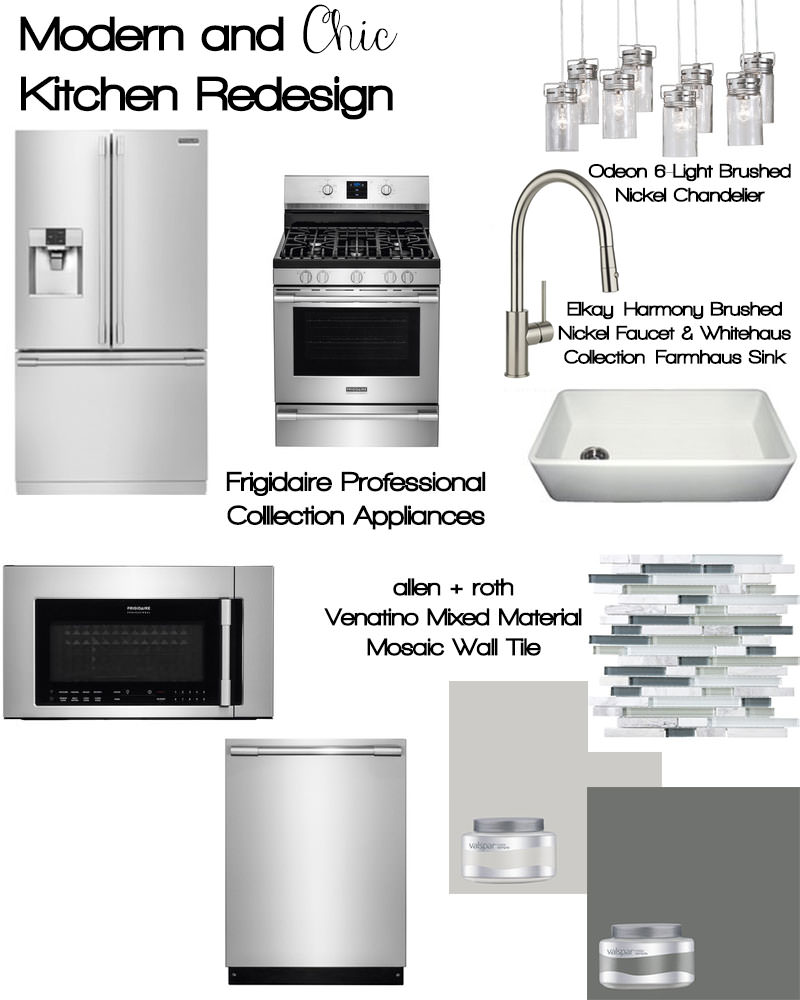 What is a must for your dream kitchen? What would your vision board look like?
The Frigidaire Professional Collection is now available at Lowe's. Also, be sure to follow Lowe's on Facebook, Pinterest and Twitter, along with Frigidaire on Pinterest, Facebook and Twitter.
Spiralized Teriyaki Zucchini Noodles with Asian Meatballs
A quick soy and honey based sauce is tossed over Teriyaki Zucchini Noodles for a dinner that is full of sautéed veggies and Asian Meatballs! A lighter yet flavorful dish that comes together quickly!
15 minPrep Time
20 minCook Time
35 minTotal Time
Yields 4
Ingredients
Asian Meatballs:
1 1/2 pounds lean ground turkey
1/2 teaspoon salt
1 teaspoon garlic powder
1 1/4 teaspoon ground ginger
2 tablespoons low sodium soy sauce (gluten free)
1/4 teaspoon hot chile oil
1 teaspoon cornstarch
1/2 cup old fashioned oats
1 tablespoon sesame seeds
Sauce:
1/4 cup soy sauce
2 teaspoon rice vinegar
1/8 teaspoon hot chile oil
2 teaspoon honey
Stir Fry:
2 1/2 cups broccoli, chopped or torn into small florets
1/2 a large red pepper, sliced thin into 1 inch pieces
3 garlic cloves, minced
Salt and pepper, to taste
4 large zucchini noodles, about 8-10 cups, spiralized thin or cut on a mandolin
Garnish:
Chopped Peanuts
Cilantro
Instructions
Meatballs: Preheat oven to 375 degrees. Prepare a baking sheet lined with parchment paper.
In a medium bowl, combine the ground turkey, salt, garlic powder, ginger, soy sauce, hot chis oil, cornstarch and oats. Stir until just combined. Shape into 2 inch meatballs.
Place meatballs on prepared baking sheet, an half inch apart. Sprinkle with sesame seeds. Place in oven and bake for 15-18 minutes, or until cooked through and no longer pink in the center. Set aside when done cooking.
Sauce: Meanwhile, combine the soy sauce, rice vinegar, hot chile oil and honey in a small bowl. Whisk to combine. Set aside while you cook the stir fry.
Stir Fry: Heat a large pan over medium-high heat. Spray with non stick cooking spray. Add the broccoli and red peppers. Cook for 4 minutes or until soft. Add the garlic. Season with a bit of salt and pepper.
Add the reserved sauce and zucchini noodles. Cook for a 2 minutes, or until noodles soften.
Divide the noodles between 4 bowls. Top with the meatballs and garnish with peanuts and cilantro.
7.8.1.2
233
https://withsaltandwit.com/spiralized-teriyaki-zucchini-noodles-with-asian-meatballs/
Craving more healthy dinner ideas?
Honey Mustard Pretzel Crusted Chicken Bites with Strawberry Dijon Dipping Sauce
Chicken Salad with Peanut Dijon Dressing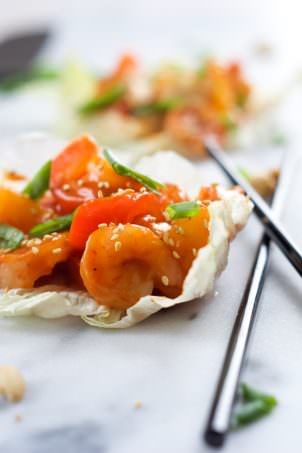 Skinny Sweet and Sour Shrimp Lettuce Wraps

If you make this recipe, make sure to snap a photo and hashtag it #HOUSEWIFEINTRAININGFILES. I'd love to see what you are cooking up in your kitchen!
27