Homemade Cinnamon Dolce Latte Recipe is the best way to sip a coffeehouse favorite from the comfort of your own home! Made lighter with coconut sugar, homemade cinnamon syrup, and milk!
about this Cinnamon Dolce Latte Recipe
I love this homemade cinnamon dolce latte so much! It only requires 4 ingredients that you probably already have in your pantry! Cinnamon Dolce simply means 'cinnamon sweet'. So think cinnamon sugar toast topping; yes that addicting sprinkle you would slather onto a buttered piece of toast! That is where my mind drifts off to when I sip this copycat cinnamon dolce latte recipe.
I've recreated it at home with better-for-you ingredients and for a whole a lot cheaper! I am talking pennies!
Ingredients you'll need for this recipe:
Coconut sugar (or brown sugar)
Cinnamon
Coffee
Milk of choice
how to make a cinnamon dolce latte like starbucks?
Start by making your cinnamon sugar simple syrup. In a small sauce pan, bring the water, sugar, and cinnamon to a boil. Let boil for 2 minutes, until the sugar is dissolved. Remove from heat and set aside.
Next, brew a double strength cup of coffee. Use twice the amount of ground coffee per water.
While the coffee brews, add milk to a saucepan and warm or microwave for 1 to 2 minutes, or until desired warmth. Froth milk once warm with a handheld frother or by adding milk to a blender and blending on high.
In 2 coffee mugs, add 1 tablespoon cinnamon syrup, then divide the coffee and milk between both, finishing with the foam on top.
For a special finish, sprinkle with cinnamon sugar!
Can you make a big batch of this Cinnamon Dolce Latte Recipe
Yes! You can make a double or trip batch of the syrup and store in an airtight container in the fridge for 3-4 weeks. I would suggest brewing the coffee and frothing the milk fresh as it tastes best then.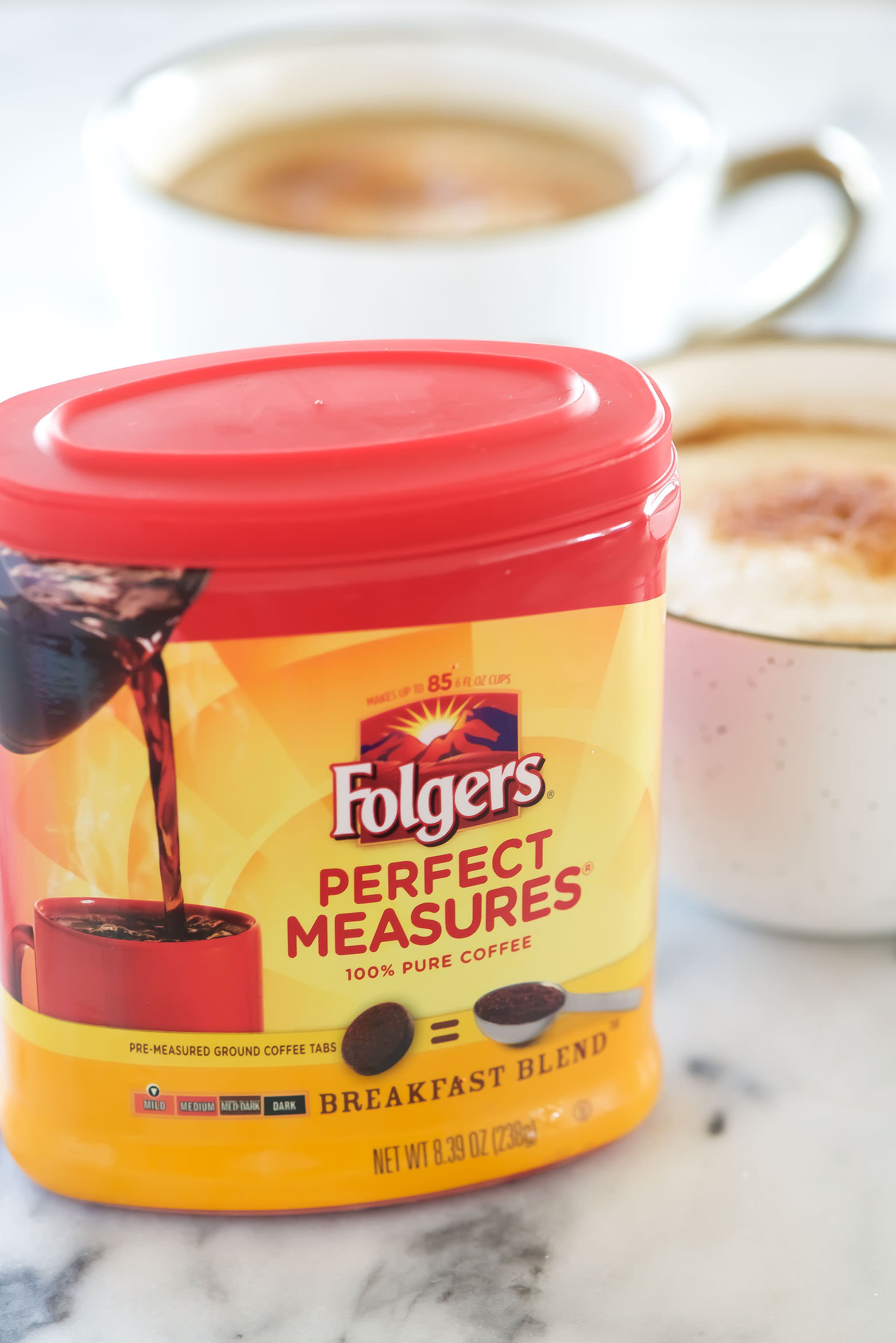 For today's homemade cinnamon dolce latte, I used Folgers Perfect Measures. (NOTE: Folgers Perfect Measures are no longer sold so please follow directions above to make double-strength coffee.) They are genius for people like me, I can never get my cup of coffee justtttt right. These premeasured tabs are the perfect scoop without the scoop. They are 100% pure ground coffee, so you can brew your perfect pot every time. If you crave a stronger cup, add one or two more tabs or if you are like me and enjoy a lighter cup of coffee, then I would use fewer. It creates the ultimate customization when creating drinks such as this cinnamon dolce coffee recipe!
more healthy coffee drinks
Homemade Cinnamon Dolce Latte Recipe

Homemade Cinnamon Dolce Latte Recipe is the best way to sip a coffeehouse favorite from the comfort of your own home! Made lighter with coconut sugar, homemade cinnamon syrup, and milk! *There will be leftover cinnamon syrup. Store in the fridge for the next mornings latte!

10 minPrep Time

5 minCook Time

15 minTotal Time

Yields 2

Ingredients

Cinnamon Sugar Syrup:

1/4 cup water
1/4 cup coconut sugar
1/8 teaspoon cinnamon

Latte:

1 cup double strength coffee*
1 cup milk (I used unsweetened vanilla almond milk)

Cinnamon Sugar Topping:

1 tablespoon coconut sugar
1/16 teaspoon cinnamon

Instructions

Cinnamon Sugar Syrup:

In a small sauce pan, bring the water, sugar, and cinnamon to a boil. Let boil for 2 minutes, until the sugar is dissolved. Remove from heat and set aside.

Latte:

Brew a double strength cup of coffee.
Add milk to a sauce pan and warm or microwave for 1 to 2 minutes, or until desired warmth. Froth milk once warm with a handheld frother or by adding milk to a blender and blending on high.
In 2 coffee mugs, add 1 tablespoon cinnamon syrup, then divide the coffee and milk between both, finishing with the foam on top.

Cinnamon Sugar Topping:

Combine sugar and cinnamon in a small bowl and sprinkle on top of foam.
Enjoy!

Notes

NOTE: Folgers Perfect Measures are no longer sold so please follow directions below to make double-strength coffee. *Make a double strength cup of coffee by doubling the ground coffee or Folgers Perfect Measures tabs for a regular cup of coffee.

7.8.1.2

376

https://withsaltandwit.com/homemade-cinnamon-dolce-latte-recipe/
If you make this recipe, make sure to snap a photo and hashtag it
#WITHSALTANDWIT

. I'd love to see what you are cooking up in your kitchen!

This post is sponsored by Folgers. But as always, opinions are my own! Thank you so much for supporting the brands that With Salt and Wit loves!

986