Homemade Cinnamon Dolce Latte Recipe is the best way to sip a coffeehouse favorite from the comfort of your own home! Made lighter with coconut sugar, homemade cinnamon syrup, and milk!
Originally Posted September 2016 – Post Updated September 2018
As we speak, I am currently leavening on a jet plane!
Mr. With Salt and Wit, and I are finally taking our anniversary trip. Which was in July. Better late than never, amirite?
You see, with all of my health issues going on the last couple of months, the last thing I wanted to do was take a vacation centered around devouring delicious plates of seared scallops and luscious risotto. I could barely go out to eat in KC, let alone every meal in a food mecca such as Las Vegas. While I fully believe the chefs would be very accommodating, it is less than glamours traveling with food allergies. "May I please have a meal free from yeast, sugar, dairy, gluten, and eggs." Um, would you like lettuce? The looks from servers are quite comical. I wish I was joking.
When I started my venture towards better health, we decided it was in my best interest to postpone our weekend getaway to the end of September, which happened to land on my birthday. Funny how that worked, huh? Since I was very, very pregnant on my thirtieth birthday, what better way to make up for it than a weekend in Sin City? Pretty fair to me. So, here we are and on our way to throw some dice!
how to make a cinnamon dolce latte like starbucks?
Every trip starts with a good dose of caffeine, right? You have to get those engines going for all the trouble fun you are about to get into. My husband's drink of choice is a nonfat cinnamon dolce latte. Venti, if you must know. His drinks are more on the spicy side, hence his love of my jalapeno margarita recipe! He enjoys the warming cinnamon that lingers with each sip, while I enjoy my drinks with a few extra pumps of vanilla. Classic but sweet.
While he would love for every day to start with a Starbucks cinnamon dolce latte, I did the next best thing. Recreated it at home with better for you ingredients and for a whole heck of a lot cheaper! I am talking pennies, peeps. It is rather simple, really. Cinnamon Dolce simply means cinnamon sweet. So think cinnamon sugar toast topping; yes that addicting sprinkle you would slather onto a buttered piece of toast! That is where my mind drifts off to when I sip this copycat cinnamon dolce latte recipe.
It starts with a homemade cinnamon dolce syrup, a simple syrup if you will. We have talked many times about simple syrups and how simple they are to make. It is a 1:1 ratio of water to sugar. For today's cinnamon dolce coffee recipe, I used coconut sugar. It is an unrefined sugar and does not taste like coconut, for all those coconut haters out there. But, I had to clear that up because more than likely, someone will ask me. No coconut flavor here.
Okay moving on. Once we make the coconut cinnamon syrup, we brew a cup of double-strength coffee. A typical latte recipe uses a shot of espresso but that is made with a fancy-schmancy machine. Something I lack; but you can recreate a similar flavor by making a double strength cup of joe! Add double the amount of coffee you would for a normal cup, so if you normally add 2 tablespoons of coffee per cup, add 4! Bam. Double strength coffee!
For today's homemade cinnamon dolce latte, I used Folgers Perfect Measures. (NOTE: Folgers Perfect Measures are no longer sold so please follow directions above to make double-strength coffee.) They are genius for people like me, I can never get my cup of coffee justtttt right. These premeasured tabs are the perfect scoop without the scoop. They are 100% pure ground coffee, so you can brew your perfect pot every time. If you crave a stronger cup, add one or two more tabs or if you are like me and enjoy a lighter cup of coffee, then I would use fewer. It creates the ultimate customization when creating drinks such as this cinnamon dolce coffee recipe!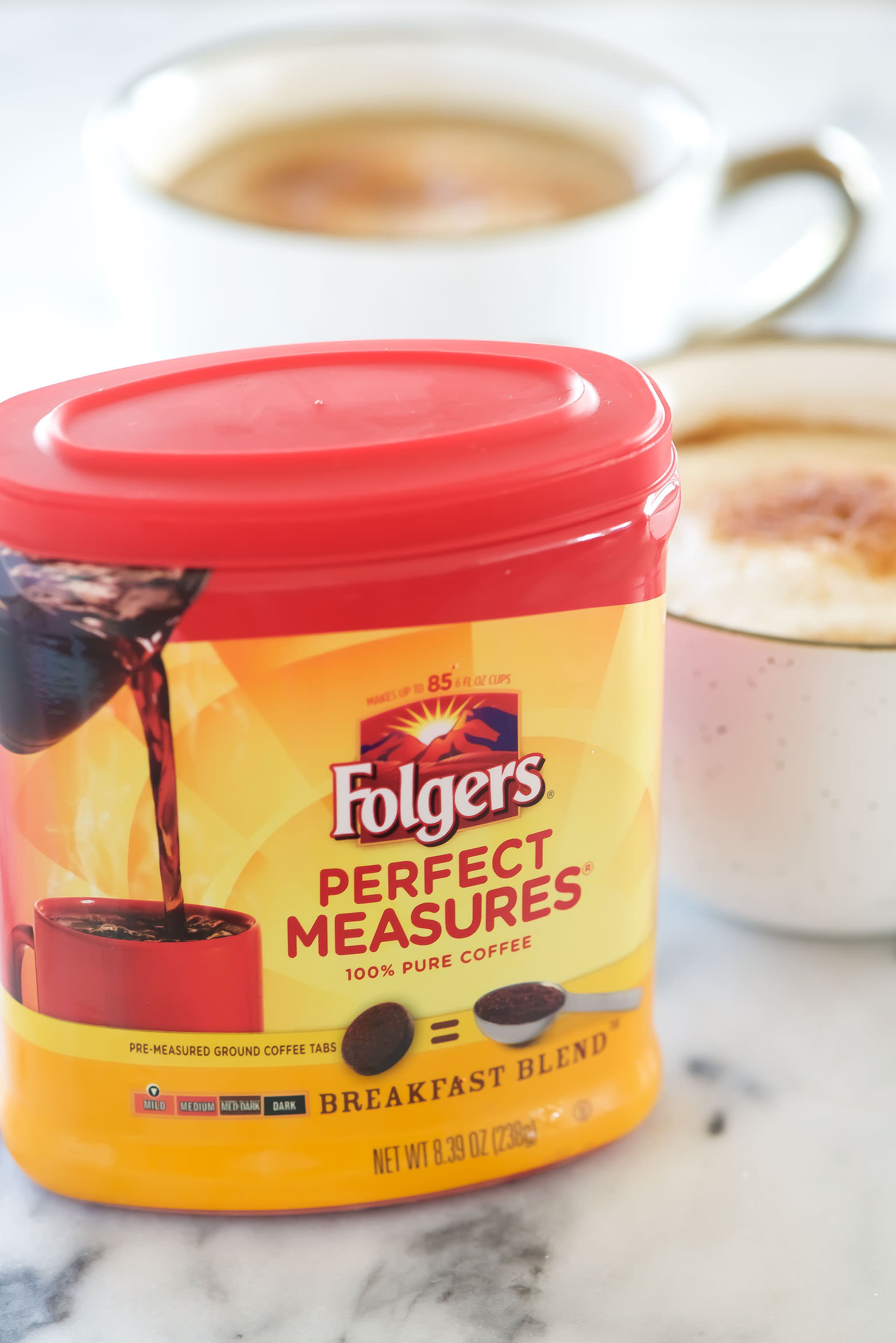 Now back to this homemade cinnamon dolce latte! We dilute the double-strength coffee by adding warmed, frothed milk! This is the other part of the latte. I have a handheld frother but you can also add the warmed milk to a blender and blend on high. Air will be whipped into the milk, creating a frothy texture. Exactly what we all dream about when you order a coffee house latte!
Plus check out my very first video on how to make this delicious latte!
Enjoy!

meal prep tips:
to make this homemade cinnamon dolce latte even easier, make the syrup ahead of time and store until morning time!
Need more coffee inspiration?
Perfect Homemade Iced Coffee {Cold Brew}
Peppermint Mocha White Russian
Homemade Cinnamon Dolce Latte Recipe

---

Megan

Yields 2

Homemade Cinnamon Dolce Latte Recipe is the best way to sip a coffeehouse favorite from the comfort of your own home! Made lighter with coconut sugar, homemade cinnamon syrup, and milk! *There will be leftover cinnamon syrup. Store in the fridge for the next mornings latte!

10 minPrep Time

5 minCook Time

15 minTotal Time

Ingredients

Cinnamon Sugar Syrup:

1/4 cup water
1/4 cup coconut sugar
1/8 teaspoon cinnamon

Latte:

1 cup double strength coffee*
1 cup milk (I used unsweetened vanilla almond milk)

Cinnamon Sugar Topping:

1 tablespoon coconut sugar
1/16 teaspoon cinnamon

Instructions

Cinnamon Sugar Syrup:

In a small sauce pan, bring the water, sugar, and cinnamon to a boil. Let boil for 2 minutes, until the sugar is dissolved. Remove from heat and set aside.

Latte:

Brew a double strength cup of coffee.
Add milk to a sauce pan and warm or microwave for 1 to 2 minutes, or until desired warmth. Froth milk once warm with a handheld frother or by adding milk to a blender and blending on high.
In 2 coffee mugs, add 1 tablespoon cinnamon syrup, then divide the coffee and milk between both, finishing with the foam on top.

Cinnamon Sugar Topping:

Combine sugar and cinnamon in a small bowl and sprinkle on top of foam.
Enjoy!

Notes

NOTE: Folgers Perfect Measures are no longer sold so please follow directions below to make double-strength coffee. *Make a double strength cup of coffee by doubling the ground coffee or Folgers Perfect Measures tabs for a regular cup of coffee.

7.8.1.2

376

https://withsaltandwit.com/homemade-cinnamon-dolce-latte-recipe/
If you make this recipe, make sure to snap a photo and hashtag it
#WITHSALTANDWIT

. I'd love to see what you are cooking up in your kitchen!

This post is sponsored by Folgers. But as always, opinions are my own! Thank you so much for supporting the brands that With Salt and Wit loves!

605