Sautéed brussels sprouts & butternut squash topped with buttery prosciutto and salty blue cheese for a simple and quick side dish or a vegetable focused main dish! 
Surprise!
You really didn't think I wouldn't shove another butternut squash recipe at you, right?
Since we all adored this salad, and these maple roasted veggies, I had to continue on my latest obsession of all things butternut squash!  Don't act so shocked.
Growing up I don't think I knew what half of the ingredients I cook with ever were. Or existed. Mom, nothing against your cooking. Your chicken parmesan will forever hold a spot in my heart.  But growing up is bittersweet.  Being an adult can be the pits sometimes, but I am in such awe of how amazing it can be. I mean look at all the freakin delicious food we get to eat.
Like tipsy milkshakes for dinner. Winning.
Now that I am grown up, I have found my way around the kitchen. I welcomed the strange and odd veggies that were calling my name at the store. Begging to jump in my cart and be taken home. One date that will never let me down.  Pretty sure is that moment, I also include my husbands name. He is pretty stellar at dates as well.
Butternut squash and I started getting close a few years ago. Sweet yet not in your face sweet. Healthy but can be totally indulgent if you so chose. I'm looking at your butternut squash pizza.   But how can you be deny it with how many personalities this squash has going on when it's so addicting?
I have decided to stop denying my love and start indulging. Over and over.  And with 6 ingredients and one of those being pepper, which doesn't really count, you can transform your dinner into autumn on plate.  The flavors meld beautifully – the slight sweetness of the squash, the earthiness of the sprouts, the salty and buttery prosciutto and the creamy blue cheese – which explains why I consumed this entire recipe upon taking the last photo. It didn't stand a chance.
Neither will you once it hits your lips!
Sautéed Brussels Sprouts & Butternut Squash Skillet with Prosciutto and Blue Cheese
Sautéed Brussels Sprouts & Butternut Squash topped with buttery prosciutto and salty blue cheese for a simple and quick side dish or a vegetable focused main dish!
Ingredients
8 thin slices of prosciutto
4 sliced brussels sprouts
4 cups butternut squash, cubed into 1/2 inch pieces
1/2 cup crumbled blue cheese
3/4 tsp pepper
1 tsp garlic powder
Instructions
In a large saute pan, add prosciutto and cook completely. Remove from pan and transfer to paper towel lined plate. Once cooled, crumble.
In the same sauté pan, add butternut squash. Cook for 5 minutes, then add brussels sprouts. Cook for 5 minutes, or until butternut squash is cooked through. Season with pepper and garlic powder. Stir well.
Remove from heat, plate and top with crumbled prosciutto and blue cheese crumbles.
Notes
*Makes 8 side dish servings or 4 main course servings.
7.8.1.2
149
https://withsaltandwit.com/brussels-sprouts-butternut-squash-skillet/
Want more squash recipes?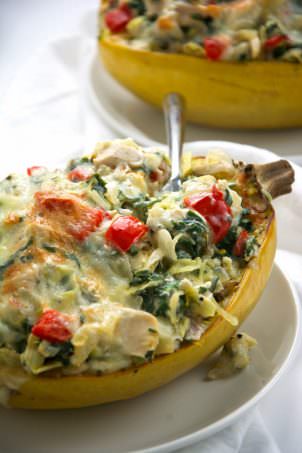 SGreek Yogurt Spinach & Artichoke Dip Stuffed Spaghetti Squash with Chicken
Caramelized Butternut Squash Quinoa Salad with Goat Cheese and Roasted Grapes
If you make this recipe, make sure to snap a photo and hashtag it #HOUSEWIFEINTRAININGFILES. I'd love to see what you are cooking up in your kitchen!
12