Tequila Honey Lime Chicken – juicy chicken marinated in a smoky chipotle, a touch of honey and chili powder then finished with a super quick and fresh red pepper salsa!
I have decided it's time to tackle yet another fear….growing a garden!
I know we are talked about my lack there of a green thumb, but some basil we bought last week is still alive! Oh yeah.
One week under my belt and I think I am a pro. I've got this!
Oh only kidding. I am nowhere near a black belt in gardening. My husband actually put on my to-do list…research how not kill plants.' He's full of confidence, huh? In all reality, we went to a local, family owned nursery this past weekend to buy our flowers for the house this weekend and the owner is a younger guy that has a five week old. Oh,m we were instantly best friends. Oh not really…but why is it you automatically feel connected when you find out others have real little ones? I think because we both are running on coffee and finding out how little of sleep it takes to really function…
While we were there, he convinced me I can indeed grow a garden! It's as simple as just planning a couple plants, then wham-bam, veggies for dayyysssss. Right….all the horror stories from my friends and family make me think otherwise. But I am going to take the advice from our new friend and attempt to grow our own zucchini, cucumbers and possibly tomatoes. Heard they are stubborn little suckers!
As I thinking about my project, my girlfriend mentioned how they are adding red bell peppers to their garden. Oh, add that one to the list! I adore red peppers for their crunch and versatility. Raw or cooked, I love them both ways! As warmers days are here, quick and oven-free recipes are are jam right? Just like last weeks, Thai Chicken Wrap, this meal comes together quickly and only requires you to fire up the grill! Serve with a side of tortilla chips, warmed up tortillas, quinoa, or brown rice like I did here. All make for a delicious, speedy meal!
The chicken is out of this world. The spices are very similar to my rub that I used in this chicken wings but I added a bit of honey for sweetness to counteract the heat. It was a fantastic decision. I am all about the sweet with the spicy! To really get your bang for your buck, marinate the chicken overnight but if you only have a few hours, that will work too! This is one time that more is better.
I have completely fallen in love with red pepper salsa. Sorry tomatoes, you have been replaced. They retain their crispness while provided a bright flavor. Then all that is added is a bit of chile powder, salt, pepper and lime juice! The lime juice really makes it. I use a whole lime and rather large one for that, as I love the juices that pool in the bottom. I make sure to pour the extra juice over the chicken which then absorbed into the rice I served it with, flavoring the chicken even more and boosting that rice to a whole new level! So don't be shy with the limes, people!
Thinking, any veggie I missed on my garden list? Let's just load it up!
Tools I used to make this recipe:
Serves 6 Ounces Meat + 1/4 of Salsa
232
Tequila Honey Lime Chicken
Tequila Honey Lime Chicken - juicy chicken marinated in a smoky chipotle, a touch of honey and chili powder then finished with a super quick and fresh red pepper salsa!
4 hrPrep Time
15 minCook Time
4 hr, 15 Total Time
Yields 6
Ingredients
Marinade:
1 tablespoon extra virgin olive oil
2 tablespoons honey
1 1/2 tablespoons tequila
2 teaspoons chili powder
2 teaspoons chipotle in adobo sauce (or chipotle powder for gluten free)
1 tablespoon ground cumin
11/2 teaspoons paprika
3/4 teaspoon garlic power
1 teaspoon onion powder
heaping 1/2 teaspoon ground coriander
3/4 teaspoon salt
1/2 teaspoon pepper
1 1/2 pounds skinless, boneless chicken breasts
Red Pepper Salsa:
2 large red bell peppers, diced
1 large lime, juiced
1/4 cup chopped cilantro (not packed)
Pinch Salt & Pepper
Pinch chile powder
To Serve
Cooked rice or quinoa
Instructions
Marinade: In a bowl or large ziploc bag, add the olive oil, honey, and seasonings. Mix well. Add the chicken and toss to completely cover. Seal bag or cover bowl with cling wrap and let marinade for at least 4 hours or overnight.
Preheat grill to medium heat. Add chicken and grill until cooked through or 165 degrees F.
Set chicken on cutting board and let sit for 5 minutes to let the juices redistribute.
Slice thin.
Red Pepper Salsa: Meanwhile, in a small bowl, combine all the ingredients for the salsa and set aside until chicken is done.
To Serve, place sliced chicken on plate and top with salsa.
Serve with cooked rice or quinoa, if desired.
7.8.1.2
344
https://withsaltandwit.com/tequila-honey-lime-chicken/
Looking for more easy chicken recipes?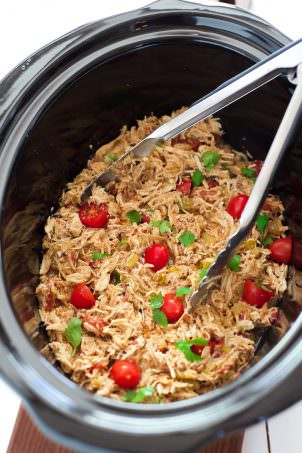 My Favorite Slow Cooker Shredded Mexican Chicken
Skinny Honey Teriyaki Chicken Rice Bowl
Slow Cooker Honey Chipotle Chicken Tacos
If you make this recipe, make sure to snap a photo and hashtag it #WITHSALTANDWIT. I'd love to see what you are cooking up in your kitchen!
8