BBQ Salmon Kale Salad is a healthy and updated version of the classic BBQ salad! Filled with bold flavors, crunchy kale, crispy vegetables and all toss in a Honey Chipotle Vinaigrette! One easy to prepare salad you will fall in love with!
This salad is real life.
Those colors! Almost too purdy to eat. I said almost…
Dinner time has proven to be rather hectic with a little one that is calling the shots. That time of the day has proven to be way more difficult than I had anticipated. Despite my husband being home from work, it appears to be Aiden's 'witching hour' and our hands are rather full. Have you heard of these glorious hours in the early evening? Well, apparently all my parent friends failed to mention this not to amazing time.
It is where babies are overstimulated – overly tired, overly hungry, over everything. And they turn into a nightmare. Enough to make me forget all about our delicious dinner plans and pick up our favorite spicy chicken wraps from this little spot down the street. Or make cereal. Both are staples on our menu lately…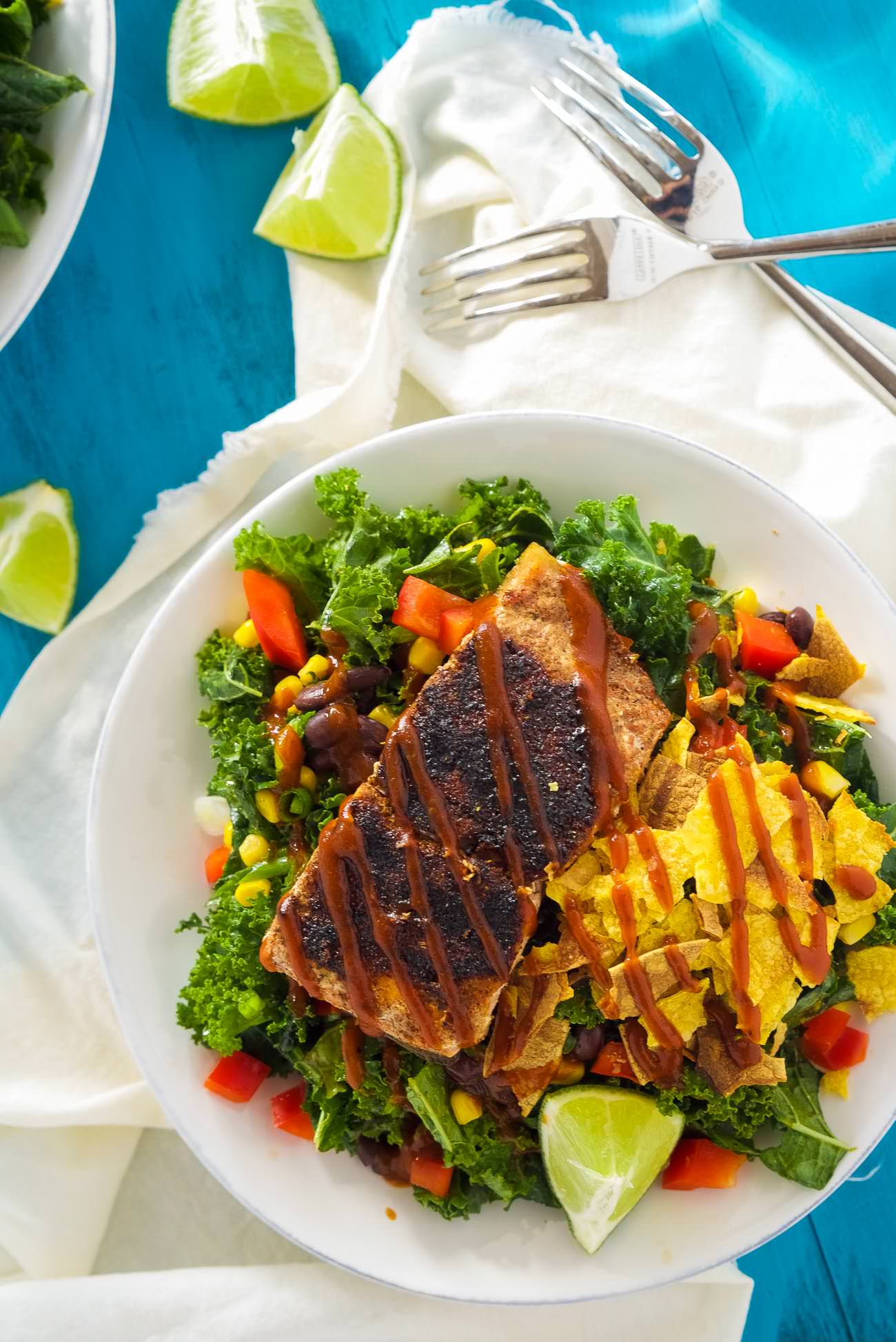 With parenting comes rollercoasters. And every evening is a new ride. Some nights are more like 'It's a Small World'…calm, relaxed and not too exciting. Other nights are like the newest, biggest roller coaster that was just built and everyone's taking bets on who's dumb enough to go on it. Scary. Exhausting. And questioning if you really want to go on it again. But nonetheless, after a few moments, you realize it wasn't that bad.
But, isn't each new road supposed to bring ups and downs? What fun would parenting be if you didn't learn something new? We have learned that dinner can be a 'fly by the seat of your parents' sorta deal. Some nights it's every man for themselves, others I am able to whip up a delicious meal that we both aren't sure how it really happened.
Sorta like this salad! Despite the longer than usual ingredient list, I promise it is mostly spices and quite a few pantry staples. Fresh salmon filets are encrusted in a spicy seasoning then pan seared for a few moments. It takes moments to make but the flavor is out of this world! It would be so tasty on chicken too if seafood isn't your thing.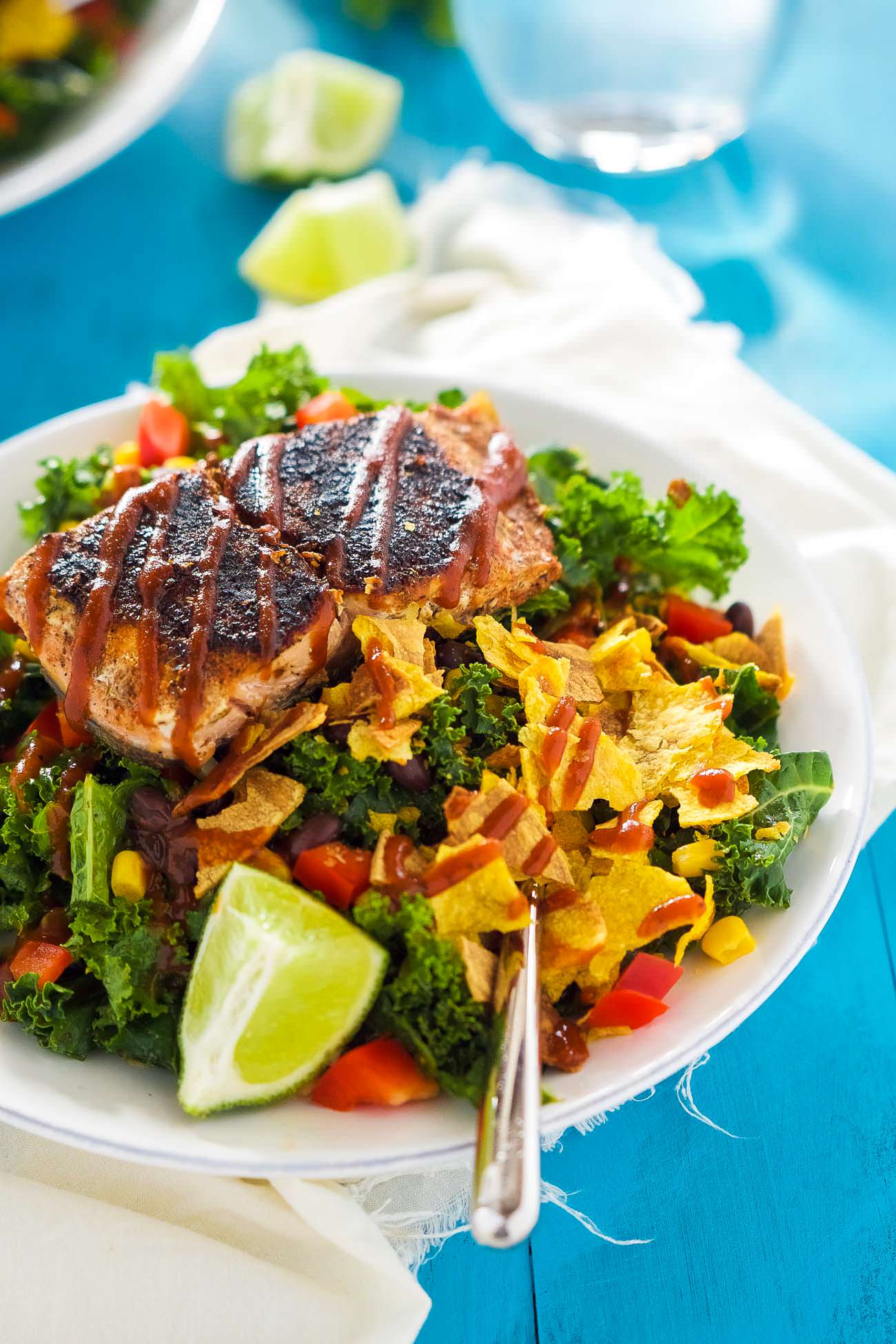 Kale isn't new in the food world but it is new for me to finally eat it raw. Oh man. Game changer. It is dressed up with fiesta corn (oh so good!), black beans, red onion, onions, cilantro, drizzled with BBQ sauce and all tossed in a spoon licking good dressing…honey chipotle! I am telling you, you will want to double the dressing because you will want to put it on every.thing.
This salad is perfect to prep ahead. Just toss the dressing with the kale and remaining ingredients. The kale magically softens as it sits so no bitter kale here! Then cook the salmon right before serving and wham, bam, dinner is done!
Talk about a life saver of a dinner!
Tools I used to make this recipe:
BBQ Salmon Salad with Honey Chipotle Vinaigrette
BBQ Salmon Kale Salad is a healthy and updated version of the classic BBQ salad! Filled with bold flavors, crunchy kale, crispy vegetables and all toss in a Honey Chipotle Vinaigrette! One easy to prepare salad you will fall in love with!
20 minPrep Time
10 minCook Time
30 minTotal Time
Yields 2
Ingredients
Chipotle Honey Dressing:
1 1/2 tablespoons extra virgin olive oil
1 tablespoon red wine vinegar
1 1/2 tablespoons honey
1 teaspoon chipotle in adobo sauce (To make gluten free, use chipotle powder)
1/2 teaspoon cumin
1/2 teaspoon garlic powder
1/2 teaspoon oregano
1/4 teaspoon salt
1/4 teaspoon pepper
Salad:
6 cups kale
1/2 cup canned fiesta corn (or regular corn)
1/2 cup black beans
1/2 small red pepper, diced
4 green onions, sliced
1/4 cup chopped fresh cilantro
2 tablespoons your favorite BBQ sauce
1 handful of tortilla chips, crushed
Salmon:
2 - 4 ounce - salmon filets
1 1/2 teaspoons coconut sugar
1/2 teaspoon paprika
1/4 teaspoon onion powder
1/4 teaspoon garlic powder
1/4 teaspoon oregano
1/2 teaspoon cumin
1/2 teaspoon salt
1/2 teaspoon pepper
1/2 tablespoon olive oil
Instructions
Dressing: In a small bowl, whisk together the ingredients for the dressing. Set aside.
Salad: In a large bowl, add the kale. Drizzle with the dressing and massage the kale to soften. Add the corn, black beans, red pepper, green onions and cilantro. Toss to mix well. Set aside.
Salmon: In a small bowl, mix together the brown sugar, paprika, onion powder, garlic powder, salt and pepper. Season the salmon. If you have filets with skin on one side, only season one side of the salmon without the skin.
Preheat a saute pan over medium heat. Add the olive oil. Add the salmon, skin side down. Cook until crisp, 2 to 3 minutes. Then flip over and cook 2 to 5 more minutes, until cooked to your liking. Remove from pan.
To assemble salads, divide kale mixture between two plates. Top with the salmon, cilantro, tortilla chips and drizzle with BBQ sauce.
Notes
*Salmon not your thing? Swap chicken breasts for the salmon and cook on the stove top until cooked through.
7.8.1.2
326
https://withsaltandwit.com/bbq-salmon-kale-salad-with-honey-chipotle-vinaigrette/
Looking for more healthy salads?

Rainbow Power Kale Salad with Peanut Dijon Dressing
Thai Cucumber Salad with Peanut Chili Vinaigrette
Blueberry & Goat Cheese Chicken Salad with Peanut Dijon Dressing
If you make this recipe, make sure to snap a photo and hashtag it #WITHSALTANDWIT. I'd love to see what you are cooking up in your kitchen!
4