A super easy Vanilla Pecan Sweet Potato Casserole that is filled with sweet potatoes that are whipped until they're velvety and topped with cranberries and roasted pecans!
Can we talk about how much love I have for sweet potatoes? Please tell me you are on the same train?
My younger, former self? Turned my tiny nose up to a food that was orange. Granted, I wasn't much of a potato lover at all. Oh the horror.
Yes, that means I forgot all about those fries in my Happy Meal…
Hello present day. And I could eat sweet potatoes on the daily. But for some reason, I have a tendency to save them for a special recipe. As if they are a prized possession that costs an arm and a leg to get ahold of. Please tell me I am not the only one that does this? I am also looking at you butternut squash…
Now that it's November (what?!), all I have on my mind is holiday gatherings, parties and 100% comfort food. Thanksgiving happens to be one of my favorite days of the year. It is filled with family time from morning to evening. And this year will be extra special with our little man in tow. There will be plenty of family members wanting some snuggles which gives this mama a tiny break!
If we have been internet friends for some time, then you may remember our family tradition of how we like to start our Thanksgiving Day. It starts with an early morning run walk around the community lake that my parents and Nana live around…called the Gobble Wobble. In the early years of my husband and I dating, it was more of a wobble than anything. This year? Aiden and I will be cheering every one on from my Nana's front porch, munching on gooey cinnamon rolls and sipping coffee. My kinda start to a holiday!
As the day goes on, I am sure I won't be able to stay out of the kitchen, even with a 4 week old on my hip. No stopping me! Last year, I brought this caramelized butternut squash and roasted grape quinoa salad. HUGE hit among the in laws that go for the classic Thanksgiving spread. I gave myself a pat on the back for that one! And this lighter smoked gouda sweet potato casserole even won my mother in law over despite her claims for not liking sweet potatoes. Winning.
So, to continue my kitchen success streak (hopefully), I am coming in tow with a pretty cute baby and this super easy vanilla pecan sweet potato casserole. Sweet potatoes are already pretty darn sweet so adding marshmallows and more sugar isn't really my cup of tea. But I do love heightening their sweetness in a more natural way. Enter, vanilla extract! I also have a love affair with vanilla. It adds sweetness to baked goods, granola, nearly anything you add it to without weighing it down with sugar! It is my secret weapon in these fluffy pancakes!
The sweet potatoes are roasted until they are caramelized and the natural sugars are released. Then, enhanced with a bit of cinnamon and honey. Whipped, silky and ultra creamy perfection.
Flavors of fall perfection is more like it.
meal prep tips:
this healthy sweet potato casserole is perfect to make ahead of time. Simply make this dish up until baking, then store in a seal conatiner in the fridge until it is time to bake. Remove from fridge while oven is preheating. You may have to add 5-10 minutes of baking to make u up for the dish being cold.

this dish is ideal make ahead side dish for holidays; Thanksgiving and Christmas! Or, it makes a terrific nutritious lunch option as well as it reheats wonderfully!

Hungry for more delicious fall recipes?
Caramelized Butternut Squash Quinoa Salad with Goat Cheese and Roasted Grapes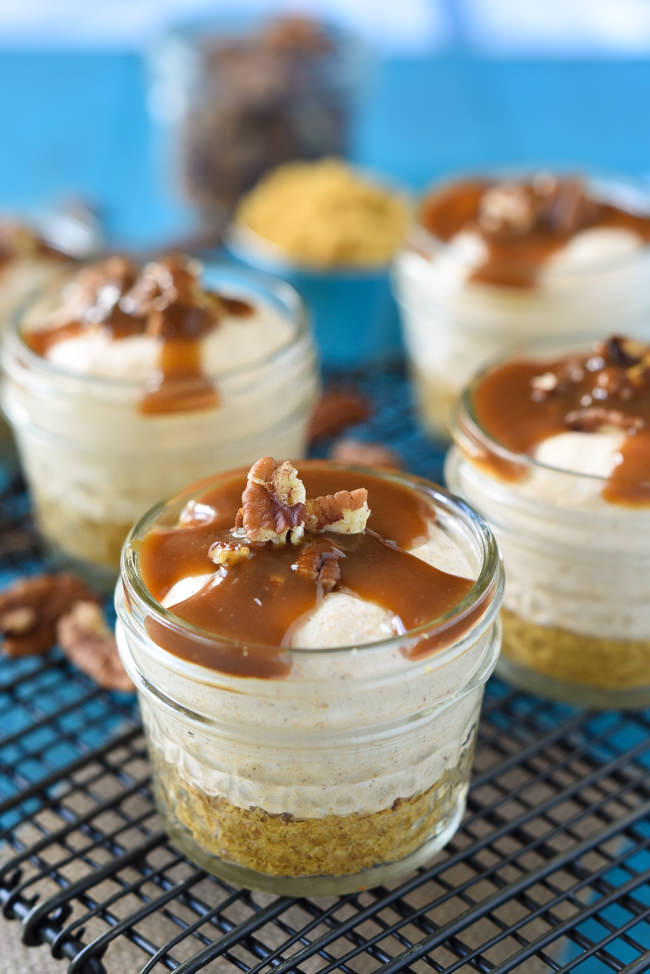 No Bake Pumpkin Cheesecakes with Caramel Pecan Topping
If you make this recipe, make sure to snap a photo and hashtag it #WITHSALTANDWIT. I'd love to see what you are cooking up in your kitchen!
20