This Grilled Chicken Bruschetta Salad is tangy blue cheese and balsamic vinaigrette makes this salad light and flavorful!
I think it's time for spring style recipes.
I am over winter and all your snowy glory, Mother Nature. I am sorry, it's me. Not you. We are breaking up.  I have found a season that is far superior, she is warmer, sunnier and cheerier. Spring has a hold on my heart.
Carb loaded, cheesy dishes have had their time and I am making way for a lighter fare. I am all over dinner-course style salads. Big hearty salads that you question if it has teeter-totored into the unhealthy realm.
At least if the word salad is incorporated you can believe you are eating healthier.  If I am going to eat salad for my main course, it better be spilling over with flavor. I jazzed up this salad with one of my favorite tapas flavors, olive oil & garlic marinated tomatoes; pre-made bruschetta topping. It is sweet and slightly acidic yet savory at the same time. It is amazing on top of toasted baguette's or eaten straight off the spoon. Don't look at me like that. Thought we had a judgement free, internet friendship here!?!
Tangy blue cheese and nutty parmesan are tossed with fresh mixed greens. I seriously cannot get enough of the stinky blue cheese. I feel like its a love or hate cheese. I am so lucky to be on the love-it side! Its creamy, tangy and sweet all in the same bit. Perfection.  Then a simple balsamic dressing is drizzled on top. I promise you once you make your own balsamic dressing you will never buy another overpriced bottle again. Its kinda sad how easy it is. I simple throw all the ingredients into a bottle, give her a good shake and then viola! Homemade balsamic dressing you can drink straight from the bottle will fall in love with!
Since we are being so healthy for dinner, it would be totally appropriate to through a delicious side of garlic bread on the side….I may or may not know of a recipe for that. But you will have to stay tuned!
Hungry for more healthy salads?
Blueberry & Goat Cheese Chicken Salad with Peanut Dijon Dressing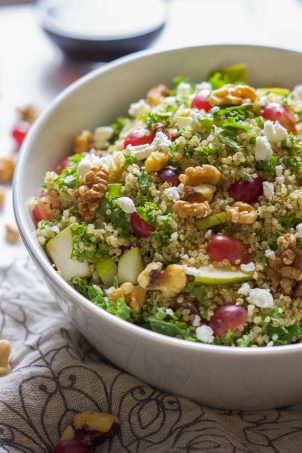 Walnut, Grape & Kale Quinoa Salad with White Balsamic Dressing
Goat Cheese, Strawberry and Prosciutto Salad with Balsamic Vinaigrette
 If you make this recipe, make sure to snap a photo and hashtag it #HOUSEWIFEINTRAININGFILES. I'd love to see what you are cooking up in your kitchen!
3